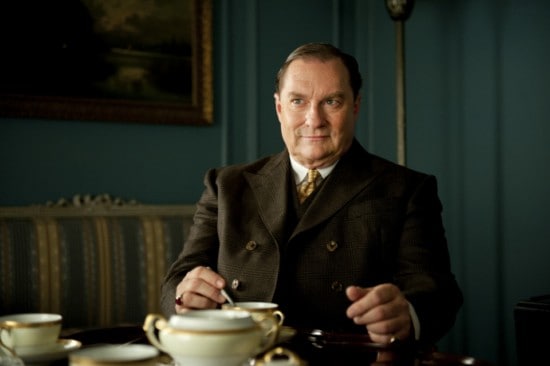 Last week on Boardwalk Empire, Nucky made a major move against Harry Daugherty, his offer to run Andrew Mellon's distillery in exchange for the arrest of George Remus (and Jess Smith) initially failing to find any traction. However, by the end of the hour, Mellon agreed to the deal, though one of the conditions was that the distillery was to profitable within a couple of months. Had Nucky managed to pull one over on Daugherty, take out two of his associates, and avoid indictment, all at the same time?
It looks like Nucky did wiggle out of trouble this time, judging from a sneak peek of tonight's episode of Boardwalk Empire. Oddly enough, he didn't even have to worry about catching both Remus and Smith, as Remus gives up Smith's name to Esther Randolph upon his arrest. Remus also claims to have receipts, which might be the thing to sink their entire operation and bring down Daugherty in the process. Daugherty thought that he could use his position in order to intimidate Nucky and get the Atlantic City impresario to stand down under threat of indictment, but Nucky has always been a strong politician and this time, he has the Attorney General with his back against the wall and the firing squad ready to pull the trigger.
However, Nucky can't afford to celebrate his victory too soon, since Gyp has been regaining strength, confidence, and resources following the attempt on his life. This time, he attempts to buy the silence of an entire town, after he already managed to get the sheriff under his thumb. Gyp is a threat that Nucky can't afford to let fester; he's temperamental, arrogant, and doesn't think twice about using violence on his enemies, evidenced by the bombing of Babette's last week. If he's allowed to continue making moves and shoring up his resources preparing for war with Nucky, he might not be easy to take out and could do serious damage to Nucky (and Nucky's empire) in their inevitable final showdown.
Elsewhere on Boardwalk Empire, Emily gets a scaled-down birthday party, Gillian blames Harrow for Tommy's recent misbehavior, and Broadway mourns a fallen star.
Boardwalk Empire airs tonight at 9:00 on HBO. You can check out spoilers from the remaining episodes this month here, as well as the TVOvermind Boardwalk Empire discussion forum here.
What do you think about Remus giving up Jess Smith that easily? Will Nucky's plan be carried all the way through and Daugherty be brought down next? With Rosetti growing stronger, is Boardwalk Empire setting up a final clash between him and Nucky near the end of the season?