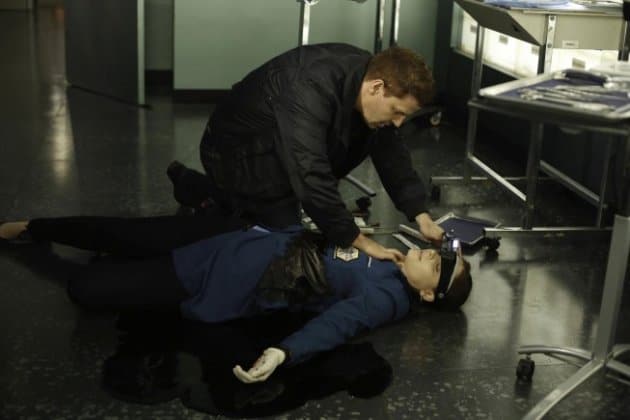 In the next, highly anticipated episode of Bones, Brennan escapes to the Jeffersonian after an argument with Booth wherein she believes he's criticizing her parenting skills. While working alone, she is shot and critically injured. In a recent conference call, we learned from star Emily Deschanel what the experience will mean for Brennan and how it may change the future.
Talking with Ghosts? In what she believes to be hallucinations brought on by her injuries, Brennan gets the opportunity to interact with her deceased mother and learn new things about herself. According to Deschanel, by the end of the episode, "Viewers will have a better idea of why Brennan behaves in the way that she does."  These behaviors include her hyper rationality and closed off emotions. Deschanel told us that the scenes with Brennan's mother were especially emotional to shoot as she has spent so much time with her character, imagining her loss. The past revealed through the experience, sheds light on her behavior and encourages a different perspective and a subtle change in her actions going forward.
Staying True to Character.  When asked how she felt about the new information regarding Brennan's past after playing the character for so many seasons, Deschanel told us that everything she learned throughout the episode was right in line with what she had in mind for her character over the years. The information was new, but didn't contradict anything she had imagined for Brennan's past.
Emotional Weight.  Ryan O'Neal reprises his role as Brennan's father in the episode and while Brennan is experiencing her past while unconscious, both Max and Booth believe they may be losing her. Emotions are further heightened when something from Brennan's mother is revealed to her father through her.
Is Pelant to Blame?  Deschanel could not tell us if Pelant was behind the shooting but she did confirm that we have not seen the last of him this season. She hasn't yet read the script for his return episode but promises that he will be back.
In Future Episodes.  On the February 25th episode of Bones, Brennan meets a new intern named Oliver Wells. He's an "out of the box thinker," and challenges Brennan in a whole new way as he questions everything and doesn't defer to her the way the other interns do.  He even causes her to question whether or not he is smarter that she is.  Deschanel expressed her wish for more devoted bonding time between Brennan and Angela, but told us that we will be treated to some Brennan/Cam time when they interact over Cam's new love interest. As for a Booth/Brennan marriage in the future? Deschanel confirmed that Booth will not ask Brennan again but wait for her to ask him though, the subject will be discussed. Also, it looks like we should be on the lookout for Booth's mother in the flesh as Deschanel believes she will be showing up at some point.
A new episode of Bones airs on Monday, February 11 at 8:00 p.m. ET/PT on Fox.  Watch three sneak peeks for the episode below.