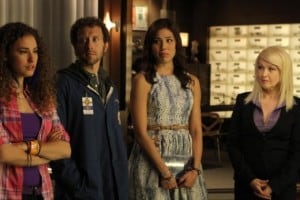 The 150th episode for Bones is quickly approaching and it looks like one of the four "bonus" episodes filmed last season will actually serve as that mileston episode.
Cyndi Lauper returns as the psychic Avalon in "The Ghost in the Machine", which finds the Jeffersonian investigating the death of a young boy.  Avalon returns because the boy's soul has apparently not yet left his body and she wants to help the victim's spirit cross over.
Use the arrows above to browse through photos for the December 3rd episode of Bones.  Keep an eye on our Bones page for sneak peeks, photos and spoilers.