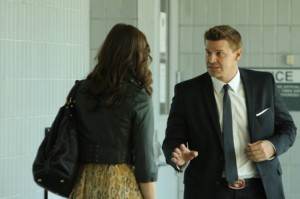 Booth and Brennan will be coming up against the season's big bad in the season finale of Bones, which is approaching remarkably quickly. Christopher Pelant is returning as the season 7 nemesis, while Ryan O'Neal will also be guest starring again as Brennan's father, Max.
Here's the official Fox description: "Evil tech genius Christopher Pelant (guest star Andrew Leeds), a suspect in a previous case Brennan and Booth handled, is back in court on appeal. Knowing what he is capable of, Brennan and Booth inform the judge that he is a suspect in two murder cases. Then, Brennan and Booth are called to the scene of a new murder. After determining the victim is Brennan's friend, who also is linked to Pelant, the Jeffersonian team works to prove he is guilty once and for all. But when law enforcement examines the team's findings, key pieces of evidence are tied to Brennan and suspicion falls on her."
Yikes! Brennan suspected for murder? Do you think there will be a big cliffhanger or they'll resolve it by the end of the finale? Let's hope for the latter! Bones has already been renewed for another season, so it will be returning in the fall.
Use the arrows above to browse through photos of the season finale of Bones, airing on May 14 at 8:00 p.m. ET/PT on Fox.