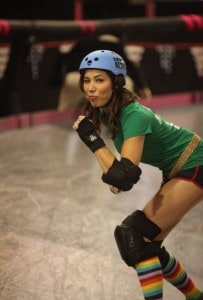 Booth and Brennan usually go undercover for cases on Bones, so Angela fans are about to get a treat when the artist gets to slap on some skates and help solve a murder.
In "The Doll in the Derby", "Brennan and Booth investigate the death of a female roller derby skater whose body was dismembered. In order to get more answers, they enlist Angie to go undercover as a derby skater. Meanwhile, Cam tries to uncover the details behind Booth's secretive hospital appointments".
Use the arrows above to browse through photos for the February 4 episode of Bones on FOX and watch a preview below.