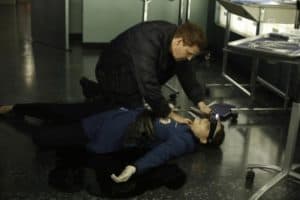 Brennan is about to have a near-death experience that will affect her profoundly in an upcoming episode of Bones.  While working late one night in the Jeffersonian lab, Brennan is shot.  Apparently she's working on a case that someone does not want to be solved and they believe that killing her is the only way to stop her. Booth is the one who discovers her body and she's rushed to the hospital where she struggles with a vision of her mother that defies all of her logic.  While Brennan fights to return to her family, Cam and the rest of the squints are struggling to find clues to the identity of the killer, who may actually be linked to the Jeffersonian.
Ryan O'Neal will be returning as Brennan's father, Max Keenan and Danielle Panabaker is returning as FBI Special Agent Olivia Sparling.
Use the arrows above to browse through photos for the February 11 episode of Bones on FOX.