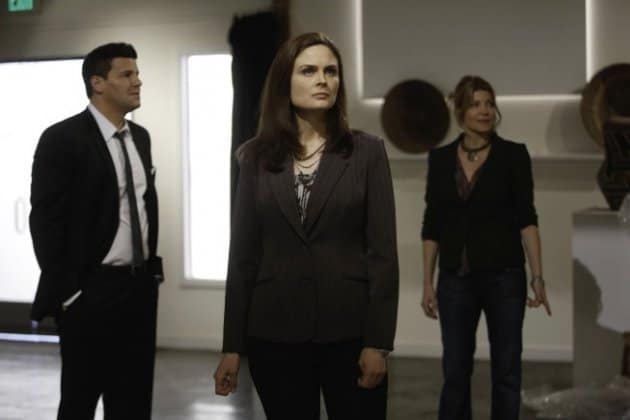 The Jeffersonian got a new intern in this week's Bones.  Dr. Oliver Wells was both intelligent and quirky and he pushed Brennan to become more open-minded and endeared himself to Hodgins while they bonded over shared interests.  The case this week involved a victim who wanted to travel back in time to meet his father, prompting the Jeffersonian team to hypothesize what they would do if they could go back or forward in time.  In the end, it appears that a more mundane explanation sufficed for the murder when the team discovered that the victim and his father (who was actually still alive) were killed because of the father's drug habit.
In next week's episode, the Jeffersonian team investigates the death of a young man named Symchay Conteh after he's found in a barrel at a hazardous waste disposal facility. The team learns that Symchay was a Sierra Leone immigrant who was working multiple jobs to make ends meat.  Meanwhile, Arastoo returns and he and Cam find it difficult to keep their relationship a secret.
Watch a preview below and click the photos to browse through picturesfor the March 4 episode of Bones on Fox.
http://youtu.be/Bu3E1R_XVxo