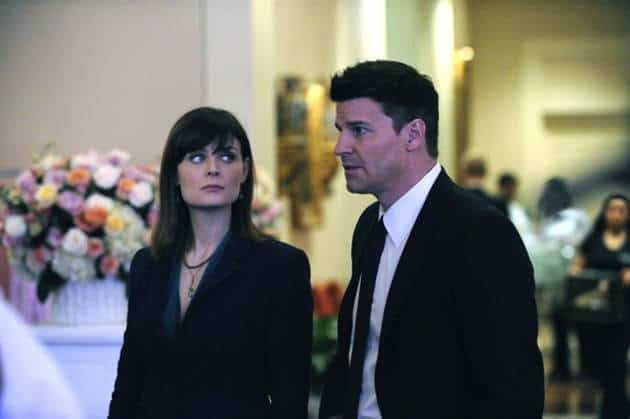 It wouldn't be Valentine's Day on Bones without a horrible death. A new episode of Bones will be airing tonight (view 4 sneak peeks for the episode), and now FOX has released promo photos and a synopsis for the upcoming February 17 episode.
In an effort to constantly gross out the viewers, the writers will have the team discovering the liquefied remains of a wedding planner, who's found at home, in her tanning bed, on Valentine's Day. Cam wants to celebrate the holiday with her boyfriend, so she puts pressure on the team to solve the case quickly. The squints hunker down to work around the clock in the lab, while Booth and Brennan investigate and interrogate a lot of possible suspects. Then they manage to unlock some secret files on the victim's computer and are lead to their main suspect.
FOX also says that Booth and Brennan "downplay the significance of Valentine's Day". That sounds like a spoiler to me. If Booth tries to downplay the holiday, does that mean he and Hannah are no longer together?
View some promo photos below for the February 17 episode below.
[imagebrowser id=873 template = flipped]
clarissa @ tvovermind.com
twitter.com/clarissa373
twitter.com/tvovermind