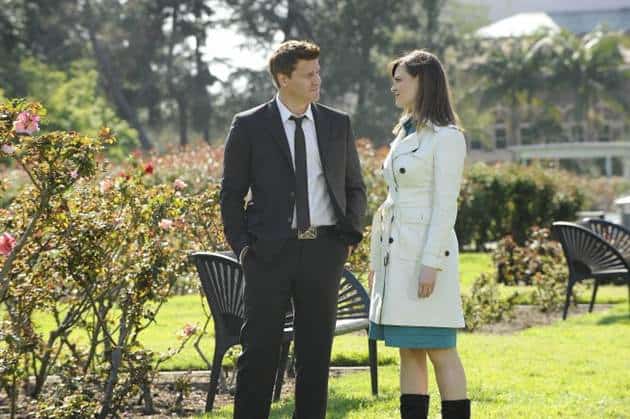 This week's new episode of Bones (airing on May 5) is somewhat of a novelty. For the first time, Brennan will have to deal with a live victim. A 15 year old girl, who is hearing impaired, is found by the police. She's currently identified as a Jane Doe and is covered in blood while holding a knife. She's brought to the FBI and the Jeffersonian to determine whether she was involved in a recent murder. Brennan and Booth will need to work together to get as much information from her as they can.
The baby talk surrounding Angela and Hodgins continues. In the first sneak peek from the May 5 of Bones below, Booth and Brennan discuss possible gifts for the baby, which leads Brennan to comment that soon she'll be the only one on their team without a child. In the second video, Booth and Brennan head to an apartment to question someone involved in the case and stumble across the dead body. In the third video, Brennan, Booth, Caroline and Sweets discuss the case and Brennan vehemently tries to argue for Jane Doe's innocence.
You can view the three sneak peeks below, courtesy of Fox. Don't miss an all new episode of Bones on May 5. You can also view promo photos for this episode here.
Also, did you hear the news that Bones has been renewed for a seventh season? You can read more about it here.
clarissa @ tvovermind.com
twitter.com/clarissa373
twitter.com/tvovermind