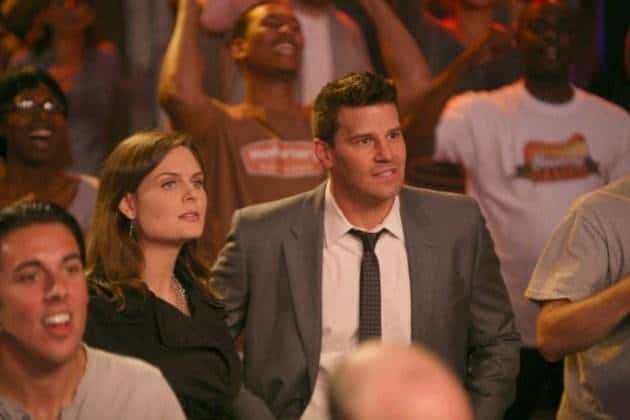 Bones premiered to record ratings when its seventh season returned last week. It seems that the fans are very interested in seeing Booth and Brennan together and expecting a baby. But, of course, there are hurdles for the new couple. Brennan just doesn't seem to "get" most normal relationships, even if she has been getting better these last few years.
Case in point: in the November 10 episode of Bones, Brennan attends an ultrasound and learns the baby's gender and fails to invite Booth to the appointment. Her actions aren't deliberate and aren't meant to hurt him, she just doesn't understand why her actions upset him. So Booth challenges Brennan to step into his shoes for the day to understand his point of view, which leads to some hilarious actions on Brennan's part during the investigation. Meanwhile, this week's case deals with the death of a competitive eating champion, just days before the Gluttony Games, an eating competition with a $10,000 prize.
A new squintern named Finn also joins the team at the Jeffersonian. But his fellow co-workers – Hodgins, in particular – aren't very accepting of him. And when Caroline tells Cam some questionable news about his past, Cam wonders whether she made the right choice to hire him.
Below are four sneak peeks for the November 10 episode of Bones.