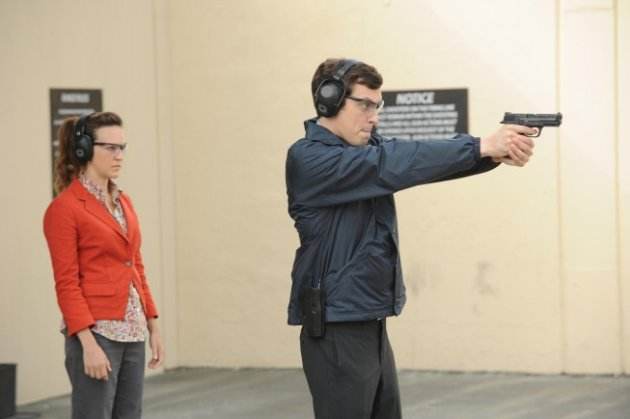 Last week's episode of Bones revealed that Booth and Brennan are having a little girl. Booth was hurt when Brennan failed to invite him to the ultrasound, but the couple eventually mended fences once Brennan understood Booth's point of view. Of course, that doesn't meant the two of them aren't arguing. Right now they're having a friendly disagreement about what type of house to buy. Apparently Brennan wants a lot of land, while Booth wants to ensure he gets himself a "man cave".
We also got a new Bones squintern last week when we were introduced to the young genius, Finn. While his relationship with Hodgins got off on the wrong foot, he was finally accepted into the Jeffersonian family by the end of the episode. He won't be appearing in this episode, but the Bones executive producers have said that Finn will definitely be seen again this season.
On the November 17 episode of Bones, Sweets is determined to get certified to carry a gun. Booth is completely against the idea, thinking that Sweets should stay out of danger and stick to what he's good at. But Sweets is completely supported by his girlfriend Daisy Wick, who makes a return appearance in this episode.
The case of the week revolves around the death of a toy company executive and Morgan Fairchild guest stars as the toy company CEO. The case makes Brennan think about the importance of play and toys in a child's life. Angela makes her realize that playing is just as important as learning for a child.
Below are three sneak peeks for this week's episode of Bones, as well as a featurette about Sweets getting certified to carry a weapon. You can also view photos and a trailer for the episode here.