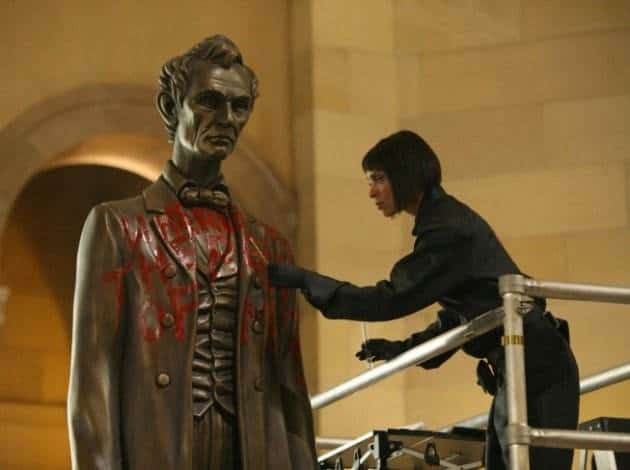 A new episode of Bones will finally air on January 12 as a lead-in to its spin-off show, The Finder. But after Thursday, the show goes back on hiatus for a while. This week's episode was originally supposed to air as the midseason finale, until Fox pushed it back, but it will serve to introduce a new recurring villain for the show, played by guest star Andrew Leeds.
Here's what we know: a mysterious message is found on the side of a national monument, written in human blood. Booth and the Jeffersonian try to track this new villain as he leaves various clues for them, including ripping out someone's spine (gross!). Sweets thinks that the killer is deliberately targeting the FBI, leaving Booth worried about Brennan and her safety as well. Booth and Bones are still searching for a house, but their different interests are keeping them from finding the perfect place. AUSA Caroline Julian will be back to help the team, while Wendall Bray will act as the squintern of the week.
Watch three sneak peeks below for the January 12 new episode of Bones, airing at 8:00 p.m. ET on Fox. You can also watch a trailer for the episode here.