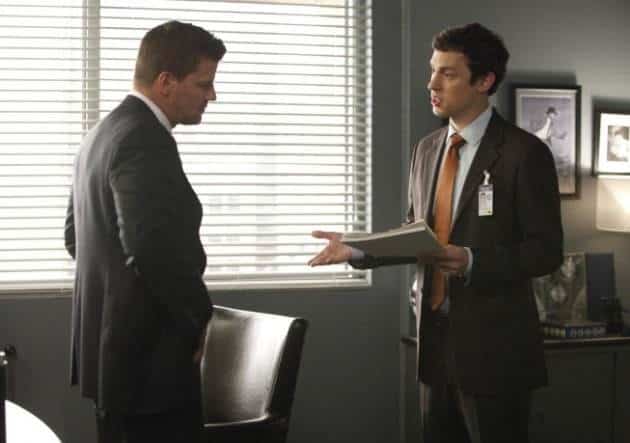 This week's season premiere of Bones brings a new dynamic to the show: a real relationship between Booth and Brennan. With a baby on the way, the new couple are living together and planning a future together for their new family.
Meanwhile, Angela and Hodgins are enjoying being new parents to an adorable baby Michael. Sweets is getting more field time with Booth now that Brennan is more restricted to the lab because of her pregnancy. And Wendell is back as this week's squintern when the Jeffersonian team investigates the murder of a woman suffering from amnesia who left her husband when she couldn't remember who he was.
Last week I posted an advance preview with some spoilers for the Bones season 7 premiere (read it here). Now Fox has released five sneak peeks for this week's episode. Watch Booth and Brennan together at Booth's apartment, Brennan crying at the crime scene, Angela and Brennan sharing a moment, Brennan enjoying some pie and this week's disagreement between the couple.
Don't miss the season premiere of Bones on Thursday, November 3 on Fox.