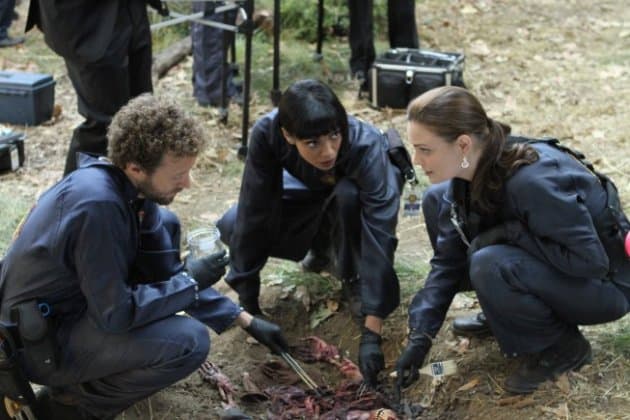 Booth and Brennan will reveal their post-life arrangements in tonight's all new episode of Bones.
The team is called out to investigate a body found in a rather shallow grave that turns out to be a former cancer patient.  But the group is shocked when a second body is found in the grave: the patient's doula.  It's revealed that this doula was trying to lead the cancer patient through her illness, but no one is certain why she too ended up dead.  This case leads Booth and Brennan to explain their wills and other funeral arrangements to each other.  Brennan's will is excessively long, while Booth announces that his is written on a sticky note.
Meanwhile, Daisy returns to the Jeffersonian for the first time since she and Sweets broke up and Booth questions Sweets about his feelings on the matter.  He insists that he's moved past Daisy, but he's not convinced.
Watch three sneak peeks below (rolled into one video) for tonight's all new episode of Bones at 8:00 p.m. ET/PT on FOX.
[FLOWPLAYER=http://www.tvovermind.com/wp-content/uploads/2013/01/bones-808.jpg|http://www.tvovermind.com/wp-content/uploads/2013/01/bones-808-Clip1.flv,440,280,true]