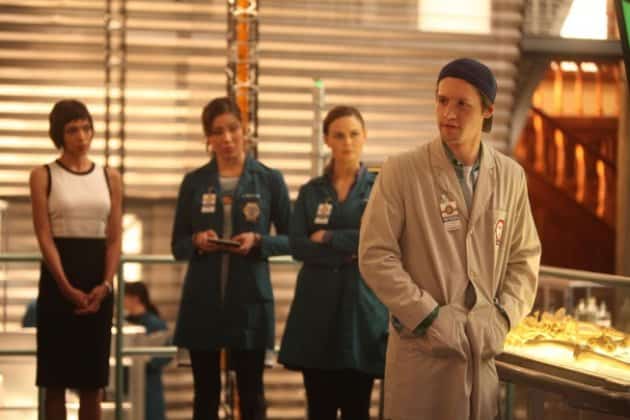 The Bones executive producers recently told journalists that they've been waiting a long time to do a 9/11 episode, but wanted to find the right way into the story.
They've found it with "The Patriot in Purgatory", which is a moving tribute to 9/11 victims.  The episode begins with five squinterns coming together for the first time at the Jeffersonian.  At first they think they've been summoned by Brennan to work on a case, but it turns out that she's decided to bring them together to help identify the unidentified skeletons that litter the "bone grave" inside the museum.  There's a healthy bit of competition among the group, but when Arastoo starts to find something very interesting about the victim he is working on, the other squinterns rally around him and learn that the homeless man had been present at the Pentagon on 9/11.
After learning that the victim was also a former-solider, Booth heads to the Pentagon in hopes that the man can be identified.  Back at the Jeffersonian, Brennan and her squinterns try to figure out how the man died and discover that he was a hero.
Watch five sneak peeks below and don't miss an all new episode of Bones tonight at 8:00 p.m. ET/PT on Fox.