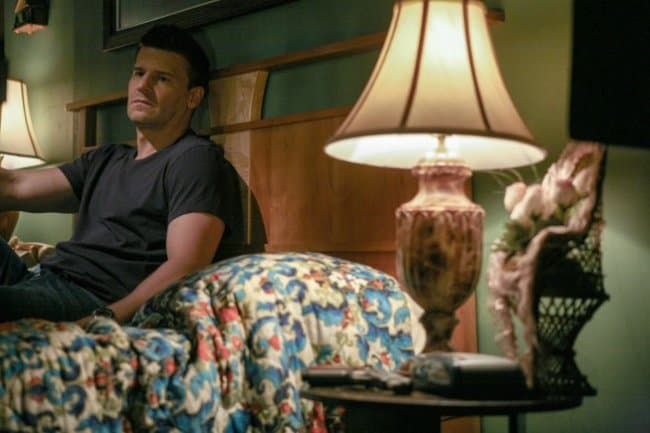 The Bones season 8 premiere picks up a few months after the end of the season 7 finale.  Brennan has gone on the run with Christine and her father in order to avoid arrest by the FBI.  Back home, Booth has been taken off the Pelant case and been put behind a desk, while another FBI agent tries to find Brennan.  At the Jeffersonian, Angela is desperately trying to find evidence to clear Brennan's name.
The authorities get an anonymous tip about a murder that might be related to Pelant, and that's when it becomes clear that Brennan is helping her old team find evidence so that she can come home.  But it's not happening fast enough for Booth, who is desperate to see her after such a long separation.  So he and Brennan have a hot and heavy reunion in a motel room.
Watch five sneak peeks below and tune in to the season 8 premiere of Bones on Monday, September 17 at 8:00 p.m. ET/PT on Fox.  For teasers from the premiere episode, click here.