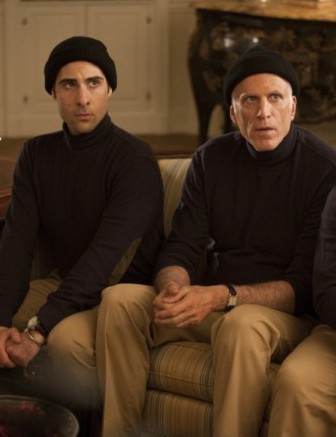 Bored to Death season 3 keeps investigating with its latest 'Two Large Pearls and a Bar of Gold,'another fun and fast-paced half-hour that sees Jonathan (Jason Schwartzman) reconnecting with an old flame and enlisting Ray and George in an effort to protect her valuable jewelery. But all the zaniness aside, does the latest caper add up to a fulfilling episode?
As much as I enjoyed last week's equally awkwardly named 'I Keep Taking Baths Like Lady Macbeth,'and all its madcap energy, there's a simpler way of delivering laughs that 'Two Large Pearls and a Bar of Gold'utilizes much more effectively. Free of (most) of the extensive guest stars and in-fighting, Bored to Death proves far more effective by stepping aside, and letting its leads exercise their sociopathic, if earnest chemistry.
It also helps to have a third act as rousing as Jonathan engaging in a prolonged fencing match with a jewel thief (later revealed to be Patty's father, played by Star Trek: Deep Space Nine's Rene Auberjonois) while George attempts to impale him with an American flag, but even mundane scenes of Zach Galifianakis, Ted Danson and Jason Schwartzman discussing their sex lives over a game of war have me in stitches.
I use the word 'sociopathic'loosely, tiptoeing around more psychologically accurate diagnoses, but Bored to Death creates a very unique method of presenting its deranged, and oblivious characters. Rather than the harmful, downright uncaring characters permeating It's Always Sunny in Philadelphia, or even Seinfeld before it, George , Ray and Jonathan remain painfully aware of their emotional shortcomings, and often attempt to make up for them. That earnest sweetness creates trouble as often as it creates sympathy, but in the case of 'Two Large Pearls'makes for wonderfully pathetic character moments, as the three take comfort in their male bonding while trying to distract one another from their problems by bringing up their own.
It also helps Bored to Death to have a stronger, more externally driven plot than the petty squabbles of Richard Antrem or Louis Green, as here we see Jonathan's old girlfriend Patty (Casey Wilson) and her father recruiting him (and by proxy his friends) to protect a diamond necklace on the eve of her wedding, though Patty has far more carnal intentions.
Patty herself doesn't feel entirely believable, a beautiful woman trying desperately to cash in on a decade-old pact to have one last romp with Jonathan before marriage, but 'Two Large Pearls'earns the price of admission alone for its absurd fencing heist, and its (somewhat predictable) resolution. Hopefully we've not seen the last of Patty and strangely cavalier sexual practices even after her wedding, but I wouldn't bet on it with only two episodes remaining, and however long until the next season. And whatever happened to Jonathan's old girlfriend Suzanne (Olivia Thirilby)?
Elsewhere, we've even got movement on the search for Jonathan's father, as despite a dead end bit at a fur store next to the burned down sperm clinic, Jonathan receives a mysterious call by episode's end of a woman claiming to have information on the subject. Belinda (Olympia Dukakis) has apparently been whisked away offscreen to an upstate convent, and despite coming around on Bernard (David Rasche), George still apparently views his daughter's wedding as 'a very dark affair.'Ray moving in with George feels like a lumping together of the weaker storylines, but 'Two Large Pearls'picks up more than enough steam to compensate.
Bored to Death could easily coast by on the charismatic chemistry between its three leads, but thankfully the more entertaining 'calamities'haven't disappointed of late.
And Another Thing…
For the third week in a row now the episode's title has come from Ray's interactions with Belinda, and only vaguely connect to the plot…
Was the sequence of Jonathan driving into Fairlawn a riff on The Sopranos' opening credits? I've not seen them enough to be sure.
'I don't like German cars, I'm a survivor."It's a friend's car, you're a Holocaust survivor?"No, in general I'm a survivor. I haven't had it easy.'
I know I said this last week, but good gravy is Mary Steenburgen still hot.
This marks the second time I've mentally connected Jason Schwartzman with 'j'accuse! ', the first time being when Wallace Wells says it to Scott Pilgrim in Scott Pilgrim's Finest Hour, though I realize Schwartzman neither played the character, nor did the line appear in the film.
What did YOU think?