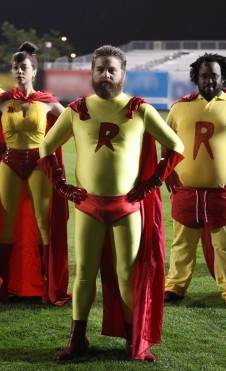 Bored to Death season 3 comes to a close with its latest "Nothing I Can't Handle By Running Away,'the second half of a guest-star packed close that sees Jonathan (Jason Schwartzman) coming to terms with the truth of his biological father, while George (Ted Danson) offers to host his daughter's wedding and Ray (Zach Galifianakis) finds comfort in a legion of fans obsessed with his comic books. The momentum from last week mostly fizzles, but is this the last we'll see of Bored to Death?
There's talk going around of this being Bored to Death's last season, thereby making 'Nothing I Can't Handle By Running Away'its last episode, owing largely to meager ratings and the increasingly pressed career of its three leads. That being the case, 'Nothing I Can't Handle By Running Away" certainly leaves us with a rather bizarre note of selfish behavior to never see properly addressed.
Last week we learned the rather surprising twist of Jonathan's new lady-friend Rose being his (presumably) half-sister, owing to their mutual father Harrison Bergeron (Stacey Keach) providing all the sperm samples at the clinic himself. That being said, Jonathan wouldn't be Jonathan if he didn't wrestle a bit with keeping the relationship even after learning this news, but 'Nothing I Can't Handle By Running Away'can't help coming off a little creepily by having Jonathan ultimately choose to keep the secret to himself, dancing with his blissfully ignorant sister and George's daughter Emily's wedding.
Surely the Bored to Death writers knew of the possibility of this being the last season, would they really want to risk Bored to Death's legacy becoming that of a ne'er-do-well detective knowingly carrying on a relationship with his own sister? I wouldn't have expected a tidy, perfectly packaged wrap-up, but that's a bizarre thread to leave dangling between seasons, let alone a potential series ending.
Otherwise, 'Nothing I Can't Handle By Running Away'felt like something of a trite and clichéd tale, most of its narrative momentum spent by last week's 'Forget the Herring.'With Jonathan shocked to be finally reunited with his father, must we really introduce three forgettable bookie thugs to threaten Harrison, and ultimately toy with the man's character by highlighting the delay in which he (possibly) retrieves the money to save his son from dying in his place? Harrison had already been very much an absentee father, what did it add to show him immediately sacrificing his son, only to show up later as an afterthought?
Overall, not much seemed to really happen during 'Nothing I Can't Handle By Running Away,'not that Bored to Death overflows with action on regularity. Ray grew predictably despondent over his final split with Lea, and sought comfort in both his infant son and a new 'League of Rays'made up of his doting fans (including The Office's resident creep Zach Woods), George stumbled but ultimately saved his daughter's wedding to Bernard, and Jonathan managed to escape his captors with a little help from his friends. Perhaps the climax of the story might have scored more of a home run in its dash around the bases were there to be a real sense of danger present.
I don't know if Bored to Death might ever be so bold as to actually kill, or even shoot characters on screen, but stakes would certainly have risen if the bookie group actually shot at the League of Rays, or even Jonathan, rather than firing into the air to scare them. They were certainly willing to kill Jonathan, why risk being foiled by one of the lunatics in yellow costumes charging them? Even Jonathan manages to score perfect disarming shots thanks to his firing range training, never once spilling even a drop of blood.
In the end it's all as cute and funny as Bored to Death tends to be, its three leads focused mainly on their own selfish neuroses, with a hint of emotional growth in between, but not enough really happens to be looked at as a season finale, a criticism I've admittedly noted about last season as well. Of the relationships created and forged, we're left really only rooting for George, who manages to deliver a heartfelt toast to his daughter, and keep his relationship to Josephine (Mary Steenburgen) through direct honesty.
I certainly hope this won't be the last we see of the consistently charming Bored to Death, on the whole they've had a strong season by maintaining real plot threads that grow and develop over the course of the season. The series could have plenty more to mine as well, provided it doesn't get bogged in guest stars, and keeps a driving goal in mind. Naturally this wouldn't'be the last we see of Isla Fisher's Rose either, who doesn't really have any material to play this time out.
An amusing, if not terribly enthralling season-ender.
And Another Thing…
I might be looking too deeply, but I'm still not sold on the fact that either Harrison is indeed Jonathan's father, or Rose his sister. I keep looking for a deeper significance behind the use of the word 'herring,'last week's episode title telling us to 'forget the herring,'while this week Jonathan protects his sister from the truth by describing his meeting with Harrison as 'a red herring.'Could I be looking too deeply in to the word's prevalence, and Isla Fisher's fiery red hair?
Continued usage of jokes that go hilariously unspoken, Jonathan's zigzag attempt to chase the golfcart while still hiding for brief instances.
Playing a eukele, we can confirm that yes, Mary Steenburgen is still hot.
What did YOU think?