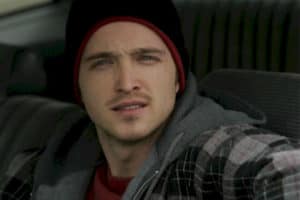 Aaron Paul is one of those guys it is impossible not to like. He seems incredibly friendly, personable, and doesn't seem to shy away from his fans like most superstars with major television shows like Breaking Bad would do. He proved this many times recently by being cordial to fans, and yesterday, he did an AMA for Reddit that will only further the respect and admiration most people have for him. Check out the story on Uproxx.
So what did we find out about the Aaron Paul and Breaking Bad that we didn't know? Well, we got some juicy stuff for sure.
First off, the ending to Breaking Bad will be very dark. Well, I think we all assumed that anyway, especially after Sunday's episode.
He got kicked out of a Readiohead concert for dancing too much.
I won't mention the squirt gun here, but it is pretty fun, I promise you that.
He may have his sites set on Game of Thrones and It's Always Sunny next.  This is more him mentioning shows he really likes, but we can dream, right?
The most emotionally upsetting moment he had on the show was when he had to wake up next to a dead Jane. Yeah, that was a very tough scene for all of us, too.
So really, in essence, nothing we learned from his AMA wasn't anything we didn't already know on some level, but it only showed how personable and down-to-Earth Aaron Paul is, and makes us that much sadder that the show is almost all over.
But man, Aaron Paul seems like a really cool dude, huh?