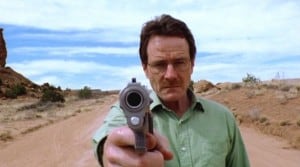 Well, it's finally here. The moment most Breaking Bad fans have been dreading. We are one week away from the show's (undoubtedly epic) finale, and as much as we all wish the show could go on forever, the best things all have a beginning and an ending. Good news for the few of you who haven't started watching this stellar show yet (I was one of you until last week, believe it or not), AMC will be running a Breaking Bad marathon next week before they air the finale, so everyone can catch up before the show ends.
The truth is, even for people who have watched the entire run of the show, it will be well worth tuning in to AMC next Sunday to see it all, back to back and in order, before Breaking Bad finally draws to a close. In other words, AMC wants you to binge on this show, before you inevitably start going through withdrawals. Well, that is really nice of them, or really cruel. I can't tell yet.
It is nice of them because the show is amazing, and this gives everyone an equal chance of catching up, ensuring there are no spoilers for anyone when the finale finally airs next week (you know spoilers will be ALL OVER the web), but it is mean of them because Breaking Bad is SO good that giving us such a hefty amount, and then taking it away forever, could just make us all spiral.
Eh, who am I kidding? I think we ALL know what we will be doing next Sunday. Spending the entirety of the day with Walt White, before it all comes crashing down.