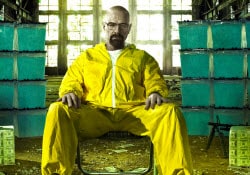 There's been some controversy on iTunes over Apple's decision to sell a "Season 5 pass" for Breaking Bad which only included the first eight episodes of the season. As we know, the show has been broken in half with eight airing last year and the "second half" airing this year with eight more episodes, but it's still technically "season five" for reasons I don't understand.
Even though it was pretty clear that the Season 5 pass would only include the first eight episodes, fans complained that they were being misled and actually sue Apple over the issue. To call something a "Season 5 pass" but only have it have half the episodes is a bit confusing, and Apple eventually realized they were in the wrong, or at least that they didn't want to deal with a lawsuit.
That's why Apple has now issued the following email to season pass holders:
Dear Customer,
We apologize for any confusion the naming of "Season 5″ and "The Final Season" of Breaking Bad might have caused you. While the names of the seasons and episodes associated with them were not chosen by iTunes, we'd like to offer you "The Final Season" on us by providing you with the iTunes code below in the amount of $22.99.  This credit can also be used for any other content on the iTunes Store. Thank you for your purchase.
Detailed instructions for redeeming the code can be found at http://support.apple.com/kb/ht1574.
Code
[redacted]
Regards,
iTunes Customer Support
http://www.apple.com/support/itunes 
It's a good move by them, and even if they were "legally" right, this will win them some fans back I imagine. Have you gotten one of these emails?