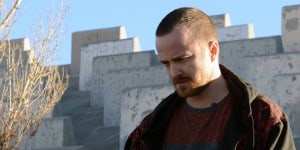 Well, guys, I feel like I don't really need to write a review of this week's Breaking Bad. I mean, nothing really happened, right? I mean, everything seemed pretty uneventful to me.
Obviously, I'm just joking around, because sweet Jesus, how amazing were the final moments of this week's episode? After two straight weeks of giving us very minimal time with Jesse, the Breaking Bad writers knew it was finally time to let Aaron Paul shine, and boy, did he. As soon as Jesse had his moment of clarity about Walt's poisoning of Brock and Saul's involvement in it, Aaron Paul, who had been playing Jesse in his most detached, numb state, suddenly unloaded all of Jesse's emotions that he had been holding inside. Fear, anger, and hatred burst from within Jesse, as he beat Saul to a bloody pulp, held Huell and Saul's receptionist at gunpoint, and then maniacally broke into Walt's house and began pouring gasoline all over the place.
While the flashforwards from earlier this season let us know that the White family's home does not burn down, it still doesn't take away from the power of Aaraon Paul's performance or the real importance of the scene: Jesse and Walt's relationship is done; it is irrevocably broken, and all the blame and fault can be purely placed upon the shoulders of Walter White.
After lying to and manipulating Jesse, time after time, Walt finally gets called out on his tricks in "Confessions," the third of these final eight episodes of Breaking Bad. In another amazing scene, Walter and Jesse stand out in the desert with Saul, as Walt tells Jesse that it might be best for him to use Saul's "clean slate" and leave town to start over somewhere new. Even though Walt attempts to express this suggestion in a fatherly, loving way, Jesse isn't having any of it and instead confronts him. "Just drop the whole 'concerned dad' thing and just tell me the truth," he tells Walt. "You're acting like me leaving town is all about me and turning over a new leaf. It's really about you. You need me gone…Just say so. Just ask me for a favor. Just tell me you don't [care] about me, and it's either this, it's either this or you'll kill me the same way you killed Mike."  It's a moment that many Breaking Bad fans have been waiting for, the time that Jesse would stop buying into all of Walt's crap and finally be able to make decisions and choices for himself, without any of Walt's selfish and cruel influence.
Jesse's declaration prompts Walt's final attempt at manipulating him, as he hugs Jesse and lets him cry into his shoulder. However, now that Jesse knows the truth about Brock, there will be no more father-son discussions or mentoring sessions for this pair. Now, instead, it looks like Jesse will do whatever he can to take down Walt; the only question is by which means he will do so. Will Jesse turn to Hank to try to bring Walt down with the police or handle this in his own brash, violent, and potentially dangerous way?
While Walt fails to manipulate Jesse any further, he is still able to put on a good enough act in his "confession" video to threaten Hank and Marie and force Hank to back off in his investigation. Telling lie after lie, about how Hank was the one who forced Walt to cook for him and how Hank was the person behind the murder of Gus Fring, Walt is scarily believable; it's a Shakespearean monologue that illustrates just how easy scheming and lying have become for Walt and just how darn good he has become at it. While Walt won't send Hank on "a trip to Belize," (as I said in my review last week, there's still some tiny part of the old Walter White left inside Walt. He is not fully Heisenberg, and therefore, will not murder someone that he claims to love)  this video shows that he has no problem destroying his brother-in-law's career, and similar to Walt's treatment of Jesse, no sense of morality when it comes to him getting what he  needs and wants.
However, it's becoming more and more apparent as Breaking Bad marches towards it conclusion that what Walter White wants and needs and all the actions that he takes to get it will ultimately lead to his own destruction.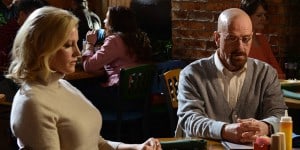 Other thoughts:
- Todd and his cronies heading into New Mexico, along with Todd's calls placed to Walt, are definitely going to lead Walt back into the meth-cooking business in some capacity. In what way, I really don't know, but I'm sure the Breaking Bad writers will find an impressive way to handle it.
- Awesome work by Jesse Plemons in his small scene during the episode's opening. I loved Plemons as Landry on Friday Night Lights but was never too impressed with him last summer on Breaking Bad. However, his gleeful and somewhat exaggerated account of this season's earlier train robbery showed some really great range.
- How tense and awkward was that scene at the Mexican restaurant between Hank, Marie, Skyler, and Walt? Hank's stone-cold anger was portrayed perfectly by Dean Norris, and Marie's suggestion that Walt just kill himself and spare everyone the pain was chilling due to Besty Brandt's blunt and simple delivery. Thankfully, the waiter's continued attempts to get the four of them to try the guacamole added some much needed (and absolutely hilarious) comic relief.
- Was really happy to see Saul's "clean slate" come back into play tonight. Even though I knew that Jesse couldn't go through with it (there are still five episodes left), it's great to see the consistent continuity that the Breaking Bad writing team provides by bringing back in old plot threads and making them relevant again.
- Despite some amazing acting from the whole cast this week (especially from Bob Odenkirk as Saul), the standout star of "Confessions" has to be Aaron Paul. Jesse discovering the truth about Walt and Brock is something that every Breaking Bad fan could not wait to see happen this season, and Paul illustrated Jesse's feelings of sadness, anger, and betrayal in a raw and real way. It was absolutely phenomenal acting, and in my opinion, should already ensure that Paul receives another Emmy win.
What did everyone else think about this week's Breaking Bad?