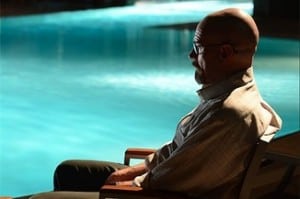 While the first three episodes of Breaking Bad's final run have been absolutely explosive, tonight's episode, "Rabid Dog," while still exciting, took a little pause from the nonstop action to set the stage for Breaking Bad's endgame. However, the positioning of these final pieces was not any less exceptional than Hank and Walt's confrontation in the garage or Jesse's realization about what a deceitful manipulator Walt is. The slower pace of "Rabid Dog" allowed for Breaking Bad to provide us with some extremely gratifying moments, such as Hank and Jesse's teamwork, Skyler's continued descent into darkness, and, in what was tonight's best scene, Jesse's enjoyment and satisfaction over finally having the upper hand over Walt. Overall, it was another tremendous episode in what is shaping up to be one of the best final seasons of television that I've ever seen.
A large reason for the more tepid pace of tonight's Breaking Bad was the structure of the episode, which somewhat resembled an episode from Mad Men's fifth season, entitled "Far Away Places," also known as the one in which Roger takes acid. In that episode, the Mad Men writers allowed three separate stories to play out over the same time, presenting them as three different acts of the episode. In a similar way, the Breaking Bad team tonight gave us Walt's point of view of the day in the first half of "Rabid Dog," before showing us Jesse's side of the day in the second half, ultimately tying the two separate story threads together in the episode's tense conclusion.
"Rabid Dog" begins with Walt entering his own home through the back door, holding a piston in his right hand and tip-toeing inside, not knowing where Jesse could be hiding and what weapon he could possibly be carrying. By the scene's end, both we and Walt realize that Jesse has left the house and is nowhere to be found.
After Walt makes up some terrible excuse about why the house smells like gasoline, saying that he had a spilling accident while attempting to fill up his car, a lie that not even Walter Jr. believes, the Whites eventually take shelter in a hotel room suite. Here, Walt contemplates how he must find a way to talk with Jesse, and Skyler bluntly suggests a more grim solution: kill him. Walt tells her that Jesse isn't some "rabid dog" (a direct connection to tonight's episode's title and to the season four episode, "Problem Dog," where Jesse "confesses" to his NA group how he murdered the innocent Gale), but Skyler asks him, "What's one more?"—Walt and she have gone so far down the rabbit-hole that one more death really should not be an issue. Of course, Jesse isn't just some no-name, drug dealer thug that Walter can bump off without any guilt; as Hank tells Jesse at the end of "Rabid Dog," despite all the betrayal and manipulation, Walt does truly care about Jesse and the sad truth is that Walter White, a person Jesse calls "the Devil," may be the only person still alive out there that really does care for him.
And that leads us to Jesse and Hank, the dynamic duo that together may be able to finally take the great Heisenberg down. However, as Breaking Bad showed us tonight, the pair of Jesse and Hank may not be as dynamic as we thought due to both of them looking out for themselves instead of each other.
After Hank convinces Jesse to leave Walt's house and not burn it down to the ground like he had planned to do last week at the end of "Confessions," Jesse sits in front of both Hank and his fellow DEA Agent, Steven Gomez, and confesses everything that he and Walt have done on camera. Jesse has now done the irreversible: he has completely turned against Walt and there is absolutely no going back. Jesse's dedication to Walt's demise doesn't carry much weight with Hank though, as he scoffs at Gomez calling Jesse a "kid" and states that he doesn't care whether Jesse lives or dies during an operation that will hopefully record Walt's confession about poisoning Brock.  As we saw earlier in Breaking Bad's final run of episodes, in Hank's diner conversation with Skyler in "Buried," the only thing that Hank cares about is taking Walt down, and it doesn't matter who falls by the wayside in his pursuit.
Similarly, Jesse wants revenge on Walt for what he did to Brock more than he wants justice to be served for the numerous crimes that Walt has committed as a drug lord. In the closing sequence of "Rabid Dog," Jesse gets spooked by a suspicious looking guy that he believes may be there to kill him for Walt, and instead of following through on the DEA's plan, he takes matters into his own hand, using a payphone to call Walt, deciding "that burning down your house is nothing" and promising that "next time I'm going to get you where you really live." With those threatening words coming from Jesse, you have to believe that his "better plan" to take down Walt that he discusses with Hank at episode's end will have to involve more than just simply slapping cuffs on his former mentor. No, Jesse has been through enough of Walter White's mind games and tricks. Jesse Pinkman is thirsty for vengeance, and I cannot wait to see how the Breaking Bad writers have him try to get it.
Other thoughts:
- Walt's phone call that ends the episode brings Todd and his uncle back into the fold and will, most likely, also end up bringing Walt back into the meth-cooking business somehow. We've seen how vicious and dangerous Todd and his crew can be. I'm anxious to see what plans the Breaking Bad writers have for them, and I just hope that Jesse can escape them.
- Skyler's urging of Walt to just kill Jesse was an extremely dark turn for her character. While I understand that her family's safety is her concern first and foremost and that Walt's crimes have numbed her to the idea of violence, Skyler's brisk, nonchalant delivery still shocked me a little bit.
- Breaking Bad has always used sound well and that blending of the musical score and Walt's heartbeat in the opening scene at the Whites' house only proved again how amazing this series is at creating tension through not only cinematography but also sound mixing.
- The love and compassion that Walt Jr. has been showing for his dad over the past two weeks is really killing me. I, like many Breaking Bad fans, joke about how all Walt Jr. does is walk around and worry about breakfast, but the Breaking Bad writers have done a great job at reestablishing that father-son connection over these past couple of episodes, which means that it is only going to be all that more tragic when Walt Jr. finds out the truth about his father.
- ""Mr. White's gay for me. Everyone knows that!" This line from Jesse totally made me think of this video, which, if you haven't seen it yet, is absolutely perfect.
What did everyone else think about tonight's Breaking Bad?