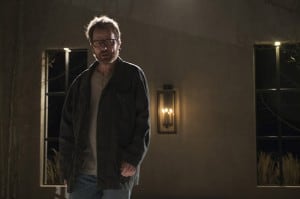 Over the course of five seasons and almost six years, Breaking Bad has wowed viewers with its unmatched intensity and perfectly paced drama. Last night, "Felina," was the last episode ever of Breaking Bad, and, not shockingly at all, Vince Gilligan, who both wrote and directed the episode, provided a proper and fitting conclusion to the saga of Walter White.
Last night's series finale of Breaking Bad was filled with countless spectacular moments. We got to see Walt use his brilliant mind one last time, as he hooked up a machine gun inside the trunk of his car, which unmercifully killed Todd's Uncle Jack and all of his fellow neo-Nazis, and we also watched Walt, threatening the lives of Elliott and Gretchen Schwartz through the hilarious help of Badger and Skinny Pete, finally ensuring that his money would wind up with his family.
However, one of the most important scenes in the entire series happened near the middle of the episode. It was a quieter scene, not involving any guns or explosions or death. It was the conversation between Walt and Skyler, where Walt, knowing that he will never see her again, finally admits to his wife why he continued cooking meth: "I did it for me. I liked it. I was good at it and I was really…I was alive." I was alive, Walter says, making it even more fitting that the final moments of his life are not spent with family or friends; instead, Walt dies from a gunshot wound, fired by his own machine gun mechanism, inside of the meth lab where Todd was forcing Jesse took cook. With his last breaths, Walt examines the equipment and materials, smiling like a proud father after his son has hit a home run during a baseball game. This was Walt's crowning achievement, not his help in starting Gray Matters or his time as a teacher; his meth, Heisenberg's 98% pure, blue meth, is Walt's legacy, and it's the last thing he would want to see before he dies. It's the only thing in his life that still stands by him, even after everything that he has done.
While I now truly believe that Vince Gilligan was right in stating that "Ozymandias" was the best episode of Breaking Bad that they would ever make, that doesn't take away from what "Felina" did last night. Ultimately, one could argue that the episode might have been too tidy, that things still appeared a little too easy for Walt after all his struggle, but then I also think that you could look at "Felina" (and "Granite State" as well) as an epilogue of redemption that came after the conclusion of Walt's downfall in "Ozymandias." For me, that episode is the real conclusion to the story of Breaking Bad, as we see everything unravel and implode right in front of Walter's eyes because of his own mistakes.
Still, I was extremely happy to spend two more hours with these amazing characters, and I was also extremely satisfied that Jesse, forever the survivor, was able to avenge Andrea's death by killing Todd, decided not to kill Walt (he tells his former partner to kill himself if he wants to die so badly), and then was able to drive off, emotionally and physically scarred, but finally free. If there's one truly happy ending in Breaking Bad, it's for Jesse Pinkman, and my God, does that character deserve it.
Overall, "Felina" may appear a little too tidy and neat in some places, it also provided us with a satisfying conclusion to one of the greatest television series of all time. Breaking Bad, throughout 62 phenomenal episodes, was an absolute pleasure to watch, even in its most intense and unpleasant moments. As "Baby Blue" by Badfinger echoed throughout the series' final scene, as Walter finally collapses to the ground just as the police come to arrest him, finally getting, as the song suggests, what he deserves, we also got what we deserved as well, an ending that was both thrilling and fitting, a product that the great Heisenberg himself, Walter White, could be proud of.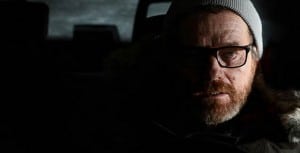 Other thoughts:
- The final cameos of Skinny Pete and Badger were episode highlights for me, as they played the part of Walt's "hitmen," scaring Elliott and Gretchen into agreement with Walt. The best part: Skinny Pete talks about how the morality is a little gray, until Walter tosses two big stacks of money into the backseat for him and Badger. Then he doesn't feel as bad.
- A lot of people were right in predicting Lydia's fate: Walt poisons her with the ricin in the café, and then informs her that she is going to die over the phone. "Goodbye, Lydia."
- The blood splattering onto the screen after Walt kills Jack was awesome and one of those brutal, visceral images that has become a trademark of Breaking Bad over the years.
- Walt, never a spiritual man, prays as he attempts to steal a car just as the police are driving by. "Just get me home. Just get me home. I'll do the rest of it," he mutters out loud before having the keys essentially fall into his lap. For Walt, these last acts of redemption are his destiny.
- Loved the framing of so many shots in this episode. Vince Gilligan did a great job of directing throughout the entire finale. My favorite images were Walt, in several scenes, either slinking around in the darkness or being obscured by some part of the room, making him almost appear as an apparition, and also the wide shots of Skyler and Walt talking with the kitchen beam right in between them, showing no matter how physically close they were, they would forever be emotionally separated.
- The use of flashback (to Hank asking Walt if he wanted to go on a DEA ride-along from the first episode) and fantasy (Jesse imagining himself in the bright sun, woodworking instead of being chained and cooking meth) were used to great effect in the finale. Neither of these moments felt cheap or forced.
- Finally, I want to say thank you to everyone who has read and commented on these reviews. It's been an absolute pleasure and privilege to cover Breaking Bad throughout its final episodes, and I really appreciate anyone who took the time to read my thoughts and theories about the series and offered up their own opinions in return.
What did everyone else think of the series finale of Breaking Bad? Were you satisfied with the series' conclusion? Why or Why not?