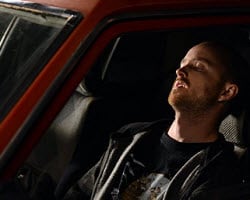 I remember when everyone was complaining about Breaking Bad splitting itself up into two season to win more Emmys, but turns out, all the complaints in the world aren't going to keep people from coming back.
The numbers are in, and the viewership for the season 5.5 premiere of Breaking Bad were up a whopping 102% to 5.9 million viewers over the season five premiere. It should probably go without saying that it's the highest night in the history of the series so far.
Only The Walking Dead puts up better numbers than this, but that show is so popular that it's even rivaling network shows when it airs. Breaking Bad might be just a touch less accessible, but word of mouth and binge Netflix viewing has likely led to an increased audience for this premiere. And the fact that there are only eight episodes left (now seven), means that everyone is probably going to be glued to their seats each week with an end in sight.
Here's what AMC had to say about the big night:
We are so pleased and gratified by viewer response to a historic four-premiere weekend on AMC," said AMC's president and general manager, Charlie Collier. "For Breaking Bad to continue to deliver record-setting ratings in its fifth and final season is remarkable. Our new series, Low Winter Sun, is off to a strong start, and we have successfully launched another after-show in Talking Bad, which will super-serve Breaking Bad fans all the way through these final episodes. On Saturday, we also launched another night of original programming on AMC with Hell on Wheels, doubling our prime time average on Saturday nights, even before time shifting, and delivering the network's highest Saturday night rating all year."
Nice of them to give credit to other shows as well. I didn't catch Low Winter Sun, but I'll probably go back and watch at some point.