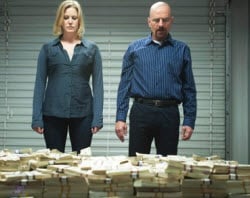 There's a bit of a controversy going on right now where a lawsuit has been filed on behalf of Breaking Bad fans who have paid for a season pass for the show, specifically for season five. The claim is that when they paid $23 for the original pass, it was expected that they'd get ALL the episodes for the current season.
Well, now that the season was "split in half," they're saying they didn't get their money's worth. They believe that Apple and AMC are screwing them by only giving them eight episodes when they were promised the "full season." Here's one of their lines of argument.
"When a consumer buys a ticket to a football game, he does not have to leave at halftime. When a consumer buys an opera ticket, he does not get kicked out at intermission."
They also reference the fact that AMC has repeatedly referred to the episodes airing now as "the second half of season five," rather than season six.
That much is true. This is not being referred to as season six by anyone, and was always promised as the second half. That said, when people bought the seasons pass in the first place, they were told that it included eight episodes, more.
It's kind of an issue of semantic. "Season pass" is an Apple term, and most shows don't  usually split their seasons like this so it's kind of a unique case. I could see how some could deem that as false advertising as this is technically season 5 still, but if they knew that only eight episodes were promised ahead of time, I'm not sure they have a case. What do you think?