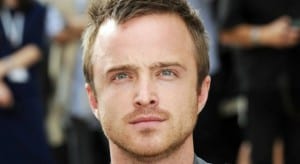 You guys all know we have a lot of love for Aaron Paul of Breaking Bad. He is just a very cool dude, and once you do some research and figure out how long he has been in the business, and how long he has been busting his behind, you can't help but be impressed. He has a SERIOUS work ethic, and due to that, has a pretty great cult following of people who just think he is the cat's pajamas right now (wow, did I really just type that). Well, all you Aaron Paul fans rejoice, because yesterday, our second favorite meth maker turned 34.
So what does a television superstar do for his birthday?
No, we are not setting up a silly answer to that question, we are genuinely asking it. Like, really, what does he do?
It's not like he can just go the The 99 and grab some gold fever wings, because he on the biggest show in television right now, and one of the biggest shows ever, so he would not be able to go anywhere without being mobbed by fans. That is the part of fame we just can't understand. As much as it would be great to be rolling in dough and have accolades shouted at you at all times, there is a real hand-off, because as much as you have money and fans, you have the inability to actually just kind of exist. And on a birthday, that must kind of stink.
Oh wait, who are we kidding, Aaron Paul comes out of his house and hangs out with fans who stop by, so we really don't think he would have any problem eating at The 99. He just seems that humble and real of a guy, which is just why we like him. So very happy (belated) birthday to Aaron Paul. We already miss you, and Breaking Bad hasn't even ended yet.