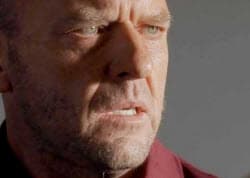 Anyone who watched this Sunday's premiere of Breaking Bad knows that the episode ended with a very impactful scene that you shouldn't read about here if you haven't seen it yet (obvious spoilers). In it, Walt and Hank show each other their hands, Hank having discovered that Walt was Heisenberg and Walt discovering that Hank is now on to him.
I was particularly moved by Hank's (Dean Norris) performance, and was curious to read about what it was like to shoot that moment. Vulture actually talked to Norris about it, and it turns out that things could have gone a different direction.
"The last scene was really interesting. The first take was really violent and hard. That's how it was written in the script. Bryan and I thought it turned out okay, but we weren't entirely satisfied. It was weird that this happened, because usually on Breaking Bad scripts you show up and it's written in such a way that you kind of flow right into it. But we felt uncomfortable; it seemed like too much. I talked about this with Vince last night. The thing about Hank at that moment was that he feels such betrayal, like your best friend just cheated on your wife, some horrible thing like that. The betrayal angle helped us see the scene as it really was, that it was hurt as much as rage, though the rage is obviously there. And Vince asked me, "What was that great thing where you grabbed the back of Walt's head?" when Hank says, "All along it was you." It wasn't a specific reference, but I realized it was from The Godfather 2 — Michael Corleone saying to his brother, "I know it was you, Fredo. You broke my heart." And it was like my best friend — well, not my best friend…"
And if you thought that Norris was on the verge of tears during the scene, you were right. He explains:
"I did almost feel like crying, or Hank did at the time, because of the betrayal. And that made the scene work for Bryan and me. And then Walt's response at the end, "If you don't know who I am, then maybe your best course would be to tread lightly," was originally written to be like, "I'm a dying man who runs a car wash," and then he switches to Heisenberg. The direction in the script was that Walt picks up his glasses and walks out of the garage. That's the way it was written. And if Cranston had done it that way it would have been great; everyone would have loved it because everyone loves Heisenberg."
I think ultimately they used the right cut of the scene. Walt switching into threatening mode at the very end was haunting and I think really sets the tone for the rest of the season.