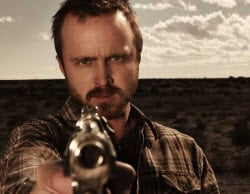 I haven't heard of Interview Magazine until now, but damn, do they ever have a good interview up right now, living up to their name. It's a chat with Six Feet Under and True Blood's Alan Ball, Damon Lindelof and Carlton Cuse of Lost and Breaking Bad's Vince Gilligan, and the group discusses how to end a show.
To recap the credentials here, Alan Ball had one of the best TV endings ever with Six Feet Under, and the last season of True Blood is coming up. Cuse and Lindelof are largely blamed for a Lost finale that didn't live up to years of expectations. And naturally we all know that Vince Gilligan has his Breaking Bad ending done already, and we just have to wait four more weeks for it now. Here he talks about the emotion of finishing:
"Oh, god, yeah. It's just been a series of emotions, as I'm sure it was for all of you guys. It's weird how with a TV show, you don't have just the one ending—you have the many. You have the last script where you write "The End." You have the last day of production. You have the last day of editing. You have the last day of mixing … We did not shoot the last scene last on Breaking Bad either. But I, too, was crying at the end of writing that last episode … Writing that last paragraph, typing out the words "The End," I started tearing up."
It's a great read all around, and I think you should really check out the whole thing for yourself over at Interview here.