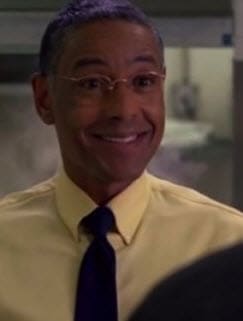 There are only eight episodes left in all of Breaking Bad, and it goes without saying that the show will be pulling out all the stops in its final half season, especially with the revelation at the very end. Hint: It happened on a toilet.
But the final eight might get even more exciting with the news that Gus Fring, Giancarlo Esposito, might be returning. He had this to say to E! about the possibility. (Earlier season spoilers ahead).
Rebecca: The Breaking Bad finale was insane! Could not have been more gut wrenching. Do you know anything about the final season yet?

Just that Gus could be coming back! Giancarlo Esposito tells us "there has been talk" and "there has been certainly ideas floating around" about his big bad character returning in some capacity for the very end. And Giancarlo is so on board with that, saying, "I want to come back in Walt's [Bryan Cranston] dream and haunt him." Yes, please.
No, Gus wouldn't have miraculously survived the blast somehow, or come back as a zombified version of himself, but I can definitely see him haunting Walter in some way. Killing Gus was the move that led Walt to become the full-fledged monster he's become in these last few episodes, and his return would be a chilling thing for WW to behold, even if it was just a vision or a dream.
Do you think Gus should come back for an end-game  cameo? Let me know in the comment.