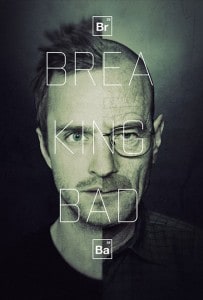 When people find out that I don't watched and haven't seen any episodes of Breaking Bad, they react like I just told them I robbed a bank. They look at me with genuine shock, as if they cannot even comprehend what I just said. They cock their heads like a dog hearing a sound for the first time. But there is sound reasoning for it. It is not that I don't WANT to watch it (actually, confession, I watched most of first season when it started), but the only reason I don't is, with something that magical, you don't want to experience it when everyone else does. I knew if I held off, eventually the show would finish, and I would have a complete full run to work with and watch as I please. Has it been hard getting to this point? Heck yes! But is it about to be incredibly rewarding for me. Double heck yes!
I also did this with Arrested Development. Waited until the newest season was ready to drop this year, and BAM, got it all at once, and it was perfect. Didn't dilute any of the show by waiting weeks or months or years, just watched it when I was ready, and as much as I wanted at once. And as soon as I watched those first few episodes of the first season of Breaking Bad, I knew it was something special. One of those perfect storms, when everything from casting to writing to direction all just worked in perfect tandem with each other to create something pretty close to television perfection.
And it got even tougher as the show went on and on, gaining popularity. Spoilers were everywhere, but even as a blogger, I avoided them and just stuck with my mission. And now here we are, at the final run of the final season, and all the world will be envying me, very soon, because right when the show ends for most people, Breaking Bad will be just beginning for me. And as crazy as my plan to hold off may have seemed to them so many seasons ago, now you all see, seething with envy, that sometimes the pleasure delayer is the true winner.
Now if you'll excuse me, I have some blue rock candy that looks suspiciously like fictitious meth to tend to.