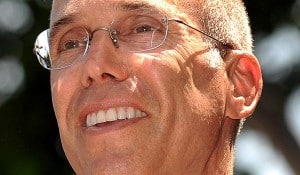 This is one of those insane stories that make you scratch your head. It seems Dreamworks CEO Jeffrey Katzenberg offered AMC seventy-five million dollars to make three more episodes of Breaking Bad. He then intended to break those episodes down into segments, which he would release as webisodes for around a dollar a pop on the web. As much as truly love Breaking Bad, we can't be the only ones who thinks that idea is a little crazy, right?
As Huffington Post reported, apparently AMC thought the idea crazy, too, because they passed.
A couple keys thing to be aware of about this. Katzenberg made the offer before he had any idea how the show ended. This implies that he may have thought Walter White would live. Second, he says he did it as a fan of the show. Putting seventy-five million dollars on the table does seem to stand as testimony to the fact that he IS a fan. But, if he is such a fan, why would he have then wanted to make money himself off the webisodes? Seems like that was Jeffrey Katzenberg thinking like Heisenberg for a second.
Funny what money and power can do to a man.