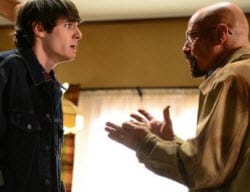 We're down to the final two Breaking Bad episodes, and though probably nothing can top Ozymandias, we're going to be in for a ride. But thankfully, we're going to squeeze in another half an episode between these last two. What do I mean?
Well, each episode is going to be 75 minutes long instead of the usual 60. Well, I'm assuming that's with commercials, because if not, it's practically a movie. The news comes after a recent tweet from producer-writer Peter Gould about the final two episodes. 
Knowing the luck I have, someone will forget to tell my DVR, and I'll end up with the last 20% of the episode missing. My DVR last week thought 9 PM Sunday was the perfect time to run a diagnostic test, and it didn't kick back on until about 9:15. I didn't miss anything important, right?
But anyway, that's 2.5 episodes to go, which is better than plain old two, so I'm definitely looking forward to seeing how the extra minutes are spent. Breaking Bad is one of those shows where each episode could be three hours and I don't think anyone would really complain.