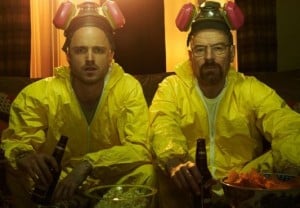 Okay, in one hand, you have Breaking Bad. What many could argue is one of the best shows ever made. In the other hand, you have Mythbusters, which is also an incredibly awesome show, though for entirely different reasons. So what happens when you take them and jam them together? You have a Breaking Bad themed episode of Mythbusters, where the Mythbusters will tackle some crazy stuff they saw Walter White do on Breaking Bad. You can act like this isn't one of the coolest things ever, but check out the trailer here and see what you think about it then.
So do recall all the various, deadly-yet-awesome things Walt White did during the run of the show? Like when he made the bomb about Mercury and blew up that entire building? Well, the Mythbusters do, and that is but one of MANY myths they are intending to address on their special Breaking Bad episode.
Man, we are REALLY sad to see Breaking Bad go, but it's safe to assume it's gonna go out with a bang.
Whoever's idea it was to mix these two shows, I would like to shake your hand right now, because this looks like it is going to be brilliant. Who knows, maybe they will join up for good and call themselves Breaking Busters.
Okay, that the stupidest thing I ever typed. Sorry about that.