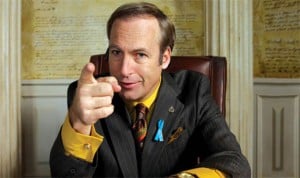 Well, it's over. One of the best runs of one of the best shows ever has ended last night. Breaking Bad, sadly, is done. Today it seems all the world is a little less excited about Sunday nights (we still have Walking Dead and Game of Thrones, people). The buzz now is about the potential follow-up to Breaking Bad being a show about crooked lawyer, Saul Goodman, and this has enraged some people. "Of all the characters to focus on after Breaking Bad ends, why Saul Goodman"? Truthfully, and from a television standpoint, it is a brilliant idea for a show, and I will tell you why.
If you recall, Saul Goodman's interactions with Jesse and Walt on Breaking Bad were incredibly intriguing. Saul had answers and connections for everything. "I know a guy who knows a guy" was his line, inferring that there was nothing out of hand or too extreme for him to deal with. From covering up murder scenes to helping people move insane amounts of narcotics, it seems if you had something shady to do, Saul Goodman was your man. It has been said the potential spin off will feature Saul dealing with many of the shady people who helped him become who he is today. Now I feel compelled to ask, how is that NOT awesome?
If, every week, they focused on a different case with a different shady person and different scenarios, it could be a great deal of fun. The coolest aspects of Breaking Bad was the idea that we were all peering into a life none of us knew about or understand. That is EXACTLY what will make the Saul Goodman spin-off work, the same ideals.
So I know we are all sad Breaking Bad is over, but realize, we got Saul Goodman on the way, so just be grateful our time in that world is not completely over.