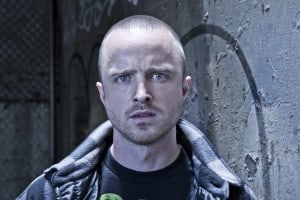 The world is in a frenzy about Breaking Bad right now. It seems that it is the show on everyone's mind and lips. And there is a great deal of speculation right now about how this stellar show is going to end. But if you watched TMZ a few nights ago, you saw something interesting. The person taking photos out on the street asked Aaron Paul if he would ever consider doing a Breaking Bad movie after the show ended. That in itself is not that odd. It was Aaron Paul's answer that shocked us, and may give us all some clues to how the season will end.
So when being asked if he would consider doing a Breaking Bad movie after the show ends, Aaron Paul looked at the camera and said: No chance. Everyone dies.
He may have followed that up with an immediate laugh, but that is all. He laughs about it and walks away. I think it's safe for us all to admit that is how we suspect the show will end, so for Aaron Paul to say it, jokingly or not, is huge. Think about it. There really has been no talks about a potential movie years down the road. It seems like there is a good chance that most of the people we love from this show will go down, one way or another, when it ends. The odd part is, if it comes true, Aaron Paul just leaked the ending. And if everyone lives, people can imply he leaked that, too, considering he said the opposite and laughs.
So really, what did we learn from all of this?
Nothing, but we love to take any excuse we can to talk about Breaking Bad. Which we know you relate to, because you ar