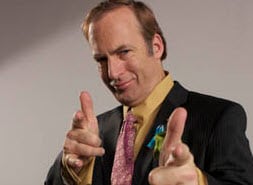 I thought that the idea of a Breaking Bad spin-off starring Saul Goodman was an April Fool's joke at first, then possibly a pipe dream, then highly unlikely, but now? Well, it just may actually happen.
AMC and Sony are earnestly "exploring" the idea, and are genuinely trying to get a "Better Call Saul" show made. And it would be a half hour comedy. Well, at least that's one of the options on the table.
I'm not sure how close this is to reality, but I know that AMC is at least taking the idea seriously. They're not really much for comedies, but I think they'd make an exception in this case, given what Breaking Bad has done for them, and the viewers Saul could continue to bring.
I actually kind of like this idea. Bob Odenkirk is amazing, and this could be really darkly funny. I also had the idea that this would be good as a prequel. Why?
Well, not just because we don't know the events of the end of the show, and Saul and all his guys may end up dead in the next few episodes here. Rather, I'd want this to be a prequel because MIKE could come back! How fantastic would that be? Mike was even funnier than Saul much of the time, and would be a perfect balance to his manic-ness. What do you say, AMC? Prequel it is?