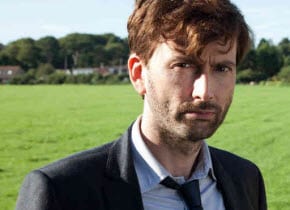 Over here in the US, we're well known for adopting other country's shows and making them our own, namely, British shows that we remake for American audiences. Sometimes, this goes well (The Office), others? Well, not as much (Skins).
Now, Fox is going to take ITV's Broadchurch and remake it for American audiences. In case you missed it the first time, here's what it's all about:
"The murder of a young boy in a small coastal town brings a media frenzy, which threatens to tear the community apart."
Well, that's the short version anyway. The show starred David Tennant in the lead role, and guess what? Fox is going to keep him on for the remake as well. Series creator Chris Chibnall is excited about the opportunity:
"I'm very, very fascinated to see this story in a different landscape with an acting ensemble that's just as strong but taken from really great American actors," he said. "The DNA of the original is absolutely intact and filtered through a new prism, so it should still feel just as vibrant, and interesting, and strange, and unique, and beautiful, but just in a different setting — and then it's exploring the dramatic opportunities that that offers up. We're not gonna do the terrible version. We're gonna do a great version."
It's so weird to me to have them remake a show with the same lead actor. It's not the first time it's been done, but it's always strange when it happens. Can we Americans simply not handle British accents on our TVs, or what?
In any case, I'm looking forward to seeing how this all turns out and if it can match the quality of the original.