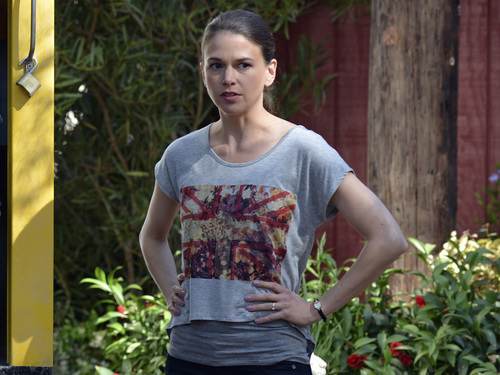 By all accounts from those on Bunheads, Hubbell Flowers was a renaissance man among men, the savior of the quirky home that he shared with his mother. Aside from having automotive skills, home repair knowledge, and a steady income, Hubbell took care of the money situation, never letting Fanny have to worry about the fate of her dance studio or any of her Buddhist paraphernalia. He was a responsible, caring man that continued to give even when he wasn't getting, but one thing: he forgot to teach his mother the skills necessary to survive without him.
Of course, no child thinks they're going to pass before their parent, but the fact remains that Fanny needs help paying bills or her situation is going to get even worse. On the next episode of Bunheads, Michelle has to try and get her to begin accepting money for the classes she teaches, Fanny's empathy for her fellow dancers outweighing any capitalistic streak. But empathy, love, and pirouettes don't pay the bills, so she's going to have to put herself and her home, the one she fought Michelle for so passionately, above everyone and everything else right now.
Elsewhere on Bunheads, Boo's taken a job as a waitress, with one of the perks being time around the owners' good-looking son. The other girls are expectedly jealous, particularly Ginny, thanks to her relationship that's been going on since the second grade. For all the talk about her body image issues and lack of self-confidence to begin the series, Boo's grown more assured of herself over the last four episodes, so who knows? Maybe that assertiveness can attract the mysterious co-worker.
Bunheads airs Mondays at 9:00 on ABC Family. You can check out my review of the most recent episode here, as well as spoilers for upcoming episodes here.
What have you thought about Bunheads thus far? Does Boo have a shot with the nameless, shirtless object of her friends' desires? Can Michelle line Fanny's finances out and teach her how to get along without Hubbell?
[jwplayer mediaid="152194″]
[jwplayer mediaid="152195″]
[jwplayer mediaid="152196″]