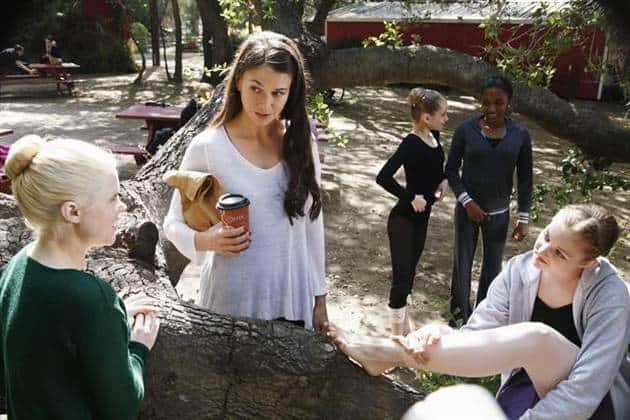 Thus far in its brief run, Bunheads has been defined by grief and sadness, particularly Michelle's uncertainty about the next step in her life now that Hubbell is gone. Alone in the world and lacking direction, she's kind of flailing about right now, stuck in a town where she's "the stripper from Tahoe" and living in a guest house. In the most recent episode, though, she met someone that could end up playing a major role in her adaptation into Paradise life, but the major question going forward is: should she let him play that role?
The introduction of wealthy businessman Grant might have had all the makings of a syrupy meet-cute, but it ended up being one of my favorite parts of "Inherit the Wind", the most recent episode of Bunheads. Their obvious chemistry and the lived-in feel of their conversation made them seem quite compatible, like they got each other from the word "go". If nothing else, having him become more involved in her life will make for entertaining television, giving Michelle another Paradise resident to bounce off of and someone that understands her plight as an out-of-towner. And quite frankly, getting involved in another relationship could help Michelle heal her broken heart that came from Hubbell passing away. Though she only (really) knew Hubbell for a couple of days, his death made a tremendous impact on her and since she doesn't have anyone else to lean on right now, maybe Grant can serve multiple purposes. He can give her a foothold in town, a friendship to count on and an ear to listen, while also keeping her mind (and heart) to the love out there in the world.
Michelle has made no secret of how closed off she can be and Hubbell became one of the few people to ever get her to open up. With his passing, there's a danger of her shutting down that part of herself for good or becoming increasingly bitter, so the connection with Grant may prevent that from happening.
But is it too soon? Michelle doesn't know whether she's coming or going these days, so I don't know if a relationship is something that she needs right now. In a span of three episodes alone, she's went from single, disenfranchised showgirl to trophy wife of the town outsider to widow living with her mother-in-law to landowner, a role that the commitment-phobe had yet to assume until then. And all of this is on top of grieving for Hubbell, trying to co-exist with Fanny, and figuring out what exactly she wants out of her life. Michelle does need the companionship that Grant would provide, considering her lack of connections in town and reputation that seems to precede her, but putting in the time and effort that it takes to have a real, meaningful relationship doesn't seem to be in the cards right now. I doubt very seriously that she's emotionally ready for something like that, not after the one man that she had opened up to and began to trust left her unexpectedly.
Eventually, I think that Michelle and Grant could become a great couple, but I'd rather it not be anytime soon. Making Grant a friend, confidante, and shoulder to lean on could give Michelle the roots that she had been missing in Paradise, but with her life as hectic and topsy-turvy as it has been, opening her up to dating might not be the best move, both for the show and the character. Michelle might not have had the depth of feeling for Hubbell that he had for her, but having her date Grant this early in the show could make her a much more unsympathetic character. We've seen her open up about her career insecurities and the wall that she puts up around herself out of fear of rejection, things that make her human and relatably vulnerable, so putting her together with someone too early could undo a lot of that progress. Love may have a place on Bunheads one day, but with a show drenched in sorrow like this, it can't come too suddenly or else it looks artificial.
Bunheads airs Mondays at 9:00 on ABC Family.