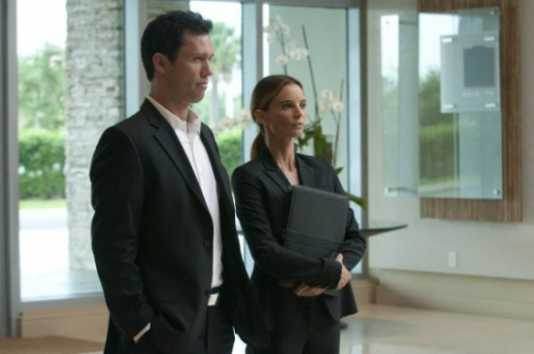 2. When will Michael Westen (Jeffrey Donovan) finally get some closure on Burn Notice?
It's the title of the show, for crying out loud. Michael's obsession with and the mystery surrounding his "burn notice" from the CIA has been the serial subplot of the USA program from the word "go." Every episode we learn a piece of the puzzle, and yet every season there's another layer.
We've seen Michael go through Management (John Mahoney), only to end up entangled with the likes of psychotic Simon (Garret Dillahunt) and the smarmy Vaughn (Robert Wisdom), the latter of whom seems to have had a direct hand in Michael's burning. It begs the question of how many people Michael is going to have to go through in order to get answers, especially since the hunt for them has long put strain on his relationships, particularly with Fiona (Gabrielle Anwar), who'd be happy if he just stopped looking.
Burn Notice made a gutsy move this season by pushing Michael's quest to the forefront and bringing in Jesse Porter (Coby Bell), a newly burned spy. Looking at Jesse, Michael could see who he'd been and how the choice he's made had changed him. In helping Jesse, it was almost as if Michael was helping himself. With Jesse's addition, Team Burn Notice was at the top of its game (at least until that pesky Vaughn stormed in), so how long can these career spies and soldiers be kept in the dark about the show's greatest mystery? Especially with that storyline coming front and center in this season?
Prognosis: Probably not until series' end. While I think Burn Notice could survive even after the major reveal (think a kind of A-Team or The Equalizer scenario), it'd be kind of strange considering that the show is called Burn Notice. Not to mention, who's to say Matt Nix and Company even know the answer yet? When I interviewed Nix at Comic-Con 2009 and asked that question, he said only that he had an idea. By the time BN runs its course (and the show has two more seasons to go), that idea could be totally different. I wouldn't hold your breath, but as long as the show is still good, it shouldn't be too much of a downer.
Which brings me to a show Burn Notice helped inspire…
Continued on next page…