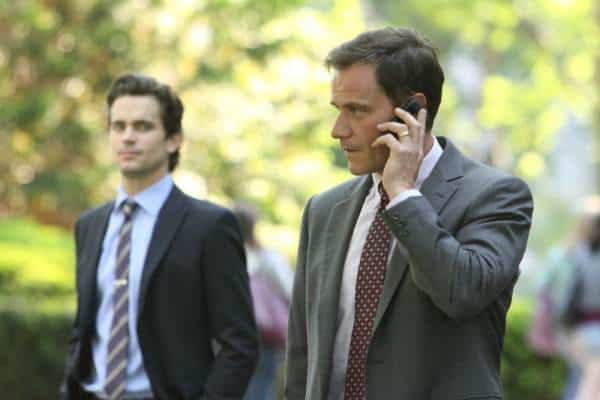 3. When will White Collar's Neal Caffrey (Matt Bomer) and Peter Burke (Tim DeKay) get to the bottom of the conspiracy surrounding Neal and Kate (Alexandra Daddario)?
Through White Collar's first season, the ongoing mystery involved Neal's search for lost love Kate, and who might be pulling the strings behind her. Now we're in the second season, Kate is no more, and we knew all along that it wasn't Garrett Fowler (Noah Emmerich) in charge. The boys have another lead (new villain Paul Blackthorne), but how big is this conspiracy and where does it end?
Some people have decried that they're getting tired of the serial element of the show already, but the ones I've spoken to are also ones who weren't paying attention to it all the way through. It was always clear that Fowler was not the show's "big bad." Likewise, Jeff Eastin has said that he knew the first season ended with Kate's demise. Obviously, Eastin has a plan. Whether or not that extends all the way to the end of the conspiracy is another thing entirely, but he knows where he wants to go. He's been getting there well: White Collar has used the ongoing threads to turn the audience against Peter and back again, and also to turn Neal and Peter against each other. Right now, they're at their biggest impasse yet, and it makes for great drama.
Where is it headed? That could be anywhere. The show scored when it brought on the underrated Blackthorne (The Dresden Files, 24, Monk, Lipstick Jungle) as the new bad guy of the moment, and if the writers know what they have, they'll keep his character around for awhile. I'm all for Neal letting go of Kate – whom I admittedly never embraced in the first place – and focusing more on the conspiracy itself, as long as it doesn't mean we see him jumping into bed with someone new right away, whether it's Alex (Gloria Votsis), Sara (Hilarie Burton) or someone else. While Matt Bomer is probably as close to perfect as a man can get, Neal is a strong character who doesn't need a woman on his arm to be complete. Especially not the season after the alleged "love of his life" dies.
Prognosis: Much like Burn Notice, I think that the show can survive without the subplot, and it's a little less central to this series than it is to Burn Notice. I'd like to see this one wrapped up in the next season or so, and let the focus settle on Neal and Peter closing cases. If they're worried about White Collar becoming just another procedural without it, I'd argue it's the chemistry between Bomer and DeKay that will always set it above the rest.
Continued on next page…