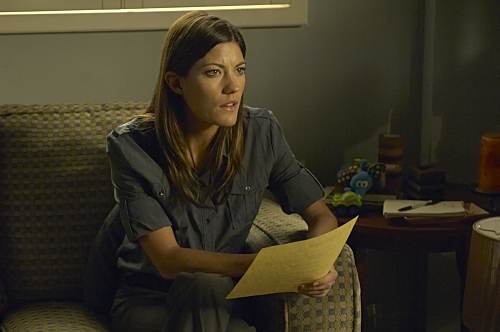 4. Is Dexter's Debra Morgan (Jennifer Carpenter) ever going to discover that her brother is a serial killer?
Deb's made it her personal mission to dig into her father's (James Remar) past. She's discovered that Harry was sleeping with at least one confidential informant – Laura Moser, Dexter's biological mother. Not to mention that she herself was sleeping with Brian Moser, Dexter's brother (and the Ice Truck Killer, besides). So when is she going to connect the dots and realize that Dexter (Michael C. Hall) is offing people?
We can only hope that her judgment has sharpened since Season 1. It'd be fairly ridiculous to have Deb continue as a successful homicide detective, and yet not eventually suss out that the person she's closest to is a murderer. No matter how good Dexter might be at covering his tracks, we also don't want Deb to look equally stupid. The show is in its fifth season now, and with Deb's own partner turned bedmate Joey Quinn (Desmond Harrington) being the latest to think something's wrong with Dexter, it's only natural that Deb might start having suspicions of her own.
In fact, it might be a great character arc for Carpenter, who's long been snubbed for critical acclaim. How terrifying would it be for Deb to think that the person she loves most might be a proverbial monster? That she might have to someday arrest him or even take him out herself? What would she do with that information in her hands? How would she deal with it? It would be heartwrenching.
However, once Deb learns Dexter's secret, how long can the show really continue? Her relationship with her brother is central to the series, and such a revelation would drastically change the way she looks at him. I'm not sure if Deb would cover for Dexter or not, and even if she did, how long could she go on doing so? One more person knowing is one step closer to everyone knowing. Once everyone knows, the show is over. Not only is Dexter's double life the core of the series, but they're not all going to be as sympathetic toward him as Deb might be.
Prognosis: Series' end for sure. Deb exposing Dexter would be a bombshell that would blow holes in the show's central relationship, making it best saved for the end of the series, where the writers could explore it to maximum potential and not have to worry about what happens next. Pitting Deb versus Dexter would be a chilling way to end the series on a high note.
Continued on next page…