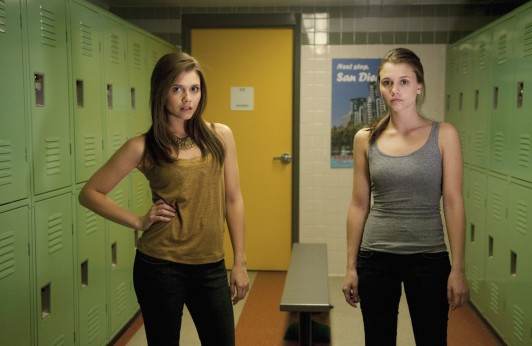 While Chloe King fans are certainly upset that they'll never find out where Chloe's dad was, how her mother reacts to the news of her daughter's gift, or if Brian is really dead, fans of The Lying Game have cause for celebration. The ABC Family drama has been picked up for 12 additional episodes, bringing its first season order to 22, according to Deadline. No word on when the back half of the season will air or what show it'll be paired with, however.
The Lying Game, based on the young adult book series by Sara Shepard (Pretty Little Liars), tells the story of identical twins Sutton and Emma, who were separated at birth but eventually find one another. Once they get back into contact, Emma assumes Sutton's life while Sutton goes off in search of details about their past, including who their birth mother was and just what Sutton's family is hiding. The show stars Alexandra Chando (As the World Turns), Allie Gonino (10 Things I Hate About You), and Blair Redford (The Young and the Restless).
The Lying Game airs Monday nights at 8:00 on ABC Family.
Have you been keeping up with Mercer family drama this season? What do you think is the real story behind Annie Hobbs? How do you think The Lying Game compares to Ringer, the other twin-based drama this season?