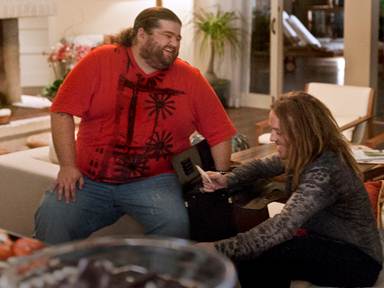 Although he may have initially scoffed at the idea, Hank is now in the theater business after he agreed to work with rocker Atticus Fetch on the adaptation of Crazy Little Thing Called Love. It was an unusual move for Hank to deviate from his first love (novels) and his moneymaker (movie work), but given everything that went on with Carrie, it might prove to be a way to find something else to focus on, grow creatively, and hobnob with an infamous party boy. However, when Atticus makes an impossible demand on the next episode of Californication, what will Hank have to do to keep their working relationship solid?
Apparently the key to pleasing Atticus and fulfilling his demands lies with guest star Jorge Garcia, who will be reuniting with Lost co-star Maggie Grace when Faith accompanies Hank on his quest. While Hank is tending to his professional life through seeking aid from the one person who can help him, his personal life experiences a high when Faith makes a decision that impacts the both of them. Could Moody have his next muse/lover in Faith, a woman who could help him out of the creative slump he's in and inspire him going forward? Would it be wise in the long term for him to get involved with her?
In addition to his role as good-natured Hurley on Lost, Garcia has appeared on the likes of Once Upon a Time, Mr. Sunshine, Alcatraz, How I Met Your Mother, and Becker.
Elsewhere on Californication, Ken finds out that Charlie isn't actually gay, which could result in Runkle being fired, while Ophelia influences Marcy regarding an important decision about Stu.
Californication airs Sundays at 10:30 on Showtime.
Do you think that Jorge will be able to help Hank satisfy the demands of Atticus? How will the rock opera begin coming together? Will Hank and Atticus have a strong working relationship?