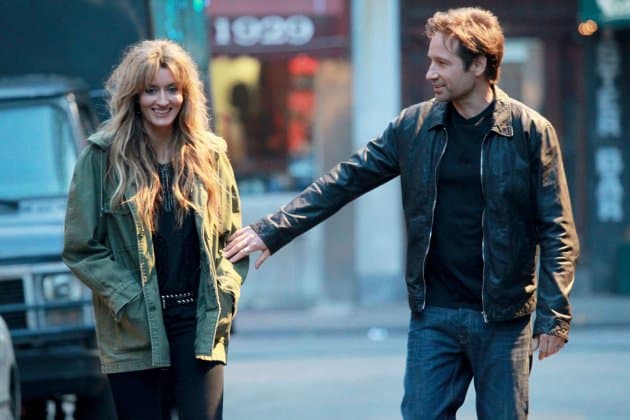 This season on Californication, Hank will continue to spiral back into old habits. For much of season five, the novelist attempted to turn his life around by not indulging in the excesses that had gotten him to this point. He had a somewhat stable "thing" with Kali and backed off the alcohol and drugs, so even if his main motivation was to please Karen and Becca, he was still making positive strides toward waking up for the first time in a long time. However, following the events of the fifth season finale, it looks like Hank will be falling back to sleep, perhaps for good.
After being drugged by Carrie, Hank wakes up in the hospital alive, though she didn't make it. As a result, all of Moody's loved ones decide to send him to a rehab facility named Happy Endings and while that doesn't stick, it gives him a chance to relax and figure out his next move. It turns out that that move will involve a rock opera, as Hank's novel God Hates Us All will be turned into a stage musical titled A Crazy Little Thing Called Love, spear-headed by rock star Atticus Fetch (Tim Minchin). Along the way from idea to opening night, Hank will come into contact with a rock groupie named Faith (played by Maggie Grace in a role that could lead to a spin-off) and Marilyn Manson as himself.
Elsewhere on the sixth season of Californication, Runkle attempts to "play gay" in order to land an openly gay client looking for a gay agent, while Karen and Marcy reconnect over their relationship troubles.
The sixth season of Californication premieres Sunday, January 13th at 10:30 on Showtime, following the season premieres of Shameless and House of Lies, respectively. In addition to the guest starring roles from Minchin, Grace, and Manson, the show will feature appearances from Jorge Garcia, Sebastian Bach, Lee Arenberg, Maggie Wheeler, and Sarah Wynter.
Would you like to see Hank actually try to get clean? How long will Runkle be able to "go gay" before his prospective client will figure out that he's not? Which guest star are you most looking forward to?
http://www.youtube.com/watch?v=gNqUQBvrSDA