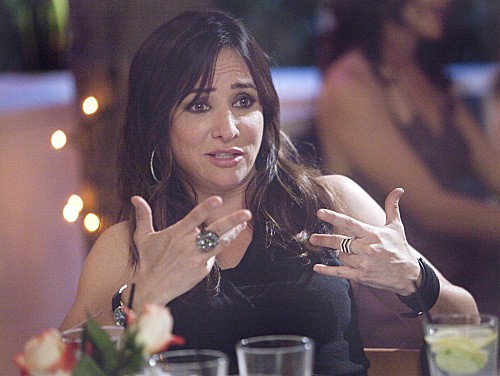 For a while, it looked like Marcy would never forgive Stu for screwing around on her last season on Californication. Although she may talk tough, it hurt Marcy to have the man she loves go outside the marriage for physical pleasure, particularly since their sex life wasn't exactly dormant to begin with; it reduced her self-esteem and made her feel like she wasn't enough for him or for anyone, really. However, with time comes healing and Marcy might have come up with a way to keep their little family in tact while making him pay for what he did to her. That being said, will Stu do anything to get Marcy back?
On the next Californication, Marcy has put aside her hurt from what happened with Stu and seems to be willing to forgive him for his transgressions. That is, if he'll wear a cage around his penis as sort of a male chastity belt; if he were to get aroused or want to fool around with another woman, it would become very uncomfortable for him. All of this is the result of Marcy's new friendship with man-hating spiritual guide Ophelia, who mentioned the cage in a previous episode and makes no mystery of her feelings for what Stu did. Marcy may feel like doing this will somehow make her feel better about what happened, but if she wants to get back with Stu, is this the right way to go about it?
Elsewhere on Californication, when faced with an impossible demand from Atticus, the guys (and Faith) turn to Becca for assistance and eventually land in the lair of a drug dealer (guest star Jorge Garcia), while Ken finds out from Robbie that Charlie's not gay, potentially putting Runkle out of a job.
Californication airs Sundays at 10:30 on Showtime.
Should Stu put on the cage to win back Marcy's trust? Will Hank get everything that Atticus asked for from the drug dealer? How will Ken react to finding out that Charlie lied about being gay to land Robbie?