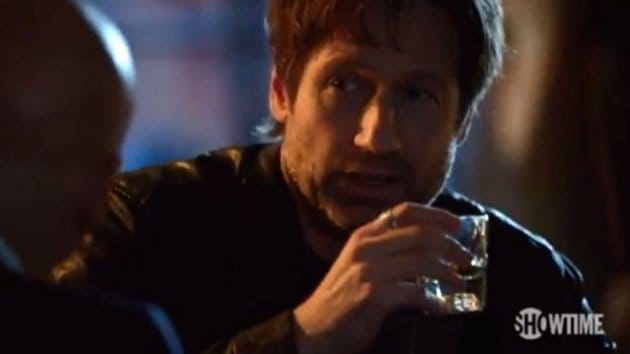 Hank Moody's fame has always played a part in the plot of Californication. From the first season encounter with Mia that nearly tore his professional reputation to shreds to last season's sojourn into the music business, Hank Moody has never been just Hank Moody, middle-aged party boy, father of a grown daughter, and tortured writer. Above all else, he's been Hank Moody, public figure, and his actions have been filtered through that lens for many years of his adult life.
On the sixth season of Californication, Hank is taking on arguably his most high-profile project yet when one of the movies adapted from his work gets turned into a rock opera, spear-headed by rocker Atticus Fetch (guest star Tim Minchin). Hank may have gotten into the songwriting game last season with Kali, but he's not exactly the musical type and, as expected, runs into a heavy dose of writer's block when attempting to pen the opera. Enter Faith (guest star Maggie Grace), a beautiful rock groupie/muse who has helped to inspire many a man to get in touch with his lyrical side. But while she and Hank get caught up in the haze of good sex and better drugs, will it lead to a successful production that could give Moody's career a major jump start?
Other guest stars in the upcoming season include Marilyn Manson, Jorge Garcia, Sebastian Bach, Lee Arenberg, Maggie Wheeler, and Sarah Wynter.
The sixth season of Californication premieres Sunday, January 13th at 10:30 on Showtime, following the season premieres of Shameless and House of Lies. You can check out a behind the scenes look at season six here.
Which of the season six guest stars are you most looking forward to seeing? Are there any other actors, musicians, or celebrities that you'd like to see pop up on the show? How do you think the rock opera will come together with Atticus Fetch at the hehlm?
http://www.youtube.com/watch?v=DNohQPFMMcE