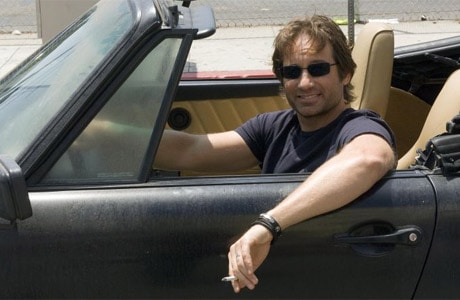 Hank Moody has written best-selling novels, worked on movie scripts for high budget productions, and had his work adapted into a film known around the world. However, the sixth season of Californication finds him tackling a world that he doesn't have much experience or familiarity with: Broadway. With Crazy Little Thing Called Love getting adapted into a rock opera fit for the Great White Way, he'll be dabbling in book writing of another kind and questions of melody, but how will that go? And more importantly, who will he be working with?
Hank will be partnering with hard partying rocker Atticus Fetch (guest star Tim Minchin) for the project. While Fetch will likely find commonality with the fellow wild child, the first words he mentions to Hank in the sneak peek below could go either way in terms of their working relationship. Moody hated that God Hates Us All ended up being watered down for the theatrical version and by the sound of Fetch's talk about love, Crazy Little Thing Called Love could become even more emotional and sensitive, two things decidedly un-Hank Moody. However, Hank's cynicism and Atticus' wide-eyed romanticism might be able to balance each other out and create the greatest project the two have been involved with.
Meanwhile, Hank is in the hospital following the events of the fifth season finale, where Carrie attempted to kill him through a prescription drug cocktail. After going in and out for a couple of days, Hank has made it through and looks to be discharged in the near future. However, Carrie's status has yet to be determined. You have to wonder if going through a near-death experience will make Hank think twice about the way he's been living his life; he almost lost his career, Karen, and Becca over a random woman who didn't mean much to him. Will this be the thing that turns his life around and allows him to embrace the idea of settling down?
The sixth season of Californication premieres Sunday, January 13th at 10:30 on Showtime. You can check out a behind the scenes look at the season here, as well as a preview of the upcoming guest stars here.
How will the musical turn out? Will Hank and Atticus have a strong working relationship? How will what happened with Carrie impact the rest of the season?