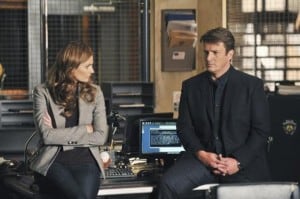 ABC has just released the promotional photos of episode 5.15 "Target", which is the first half of the two-parter special episode of the season. Our favorite crime-fighting duo will  begin a murder investigation that also exposes a plot to kidnap the daughter of a wealthy Middle Eastern businessman.
As we all know, tension tends to run high in those two parters, especially because it seems that Alexis will be kidnapped as well, so this will be a great opportunity to see both Nathan Fillion and Molly Quinn shine. Also, rumor has it we will meet Castle's dad at some point during the two-parter (view photos), so I am part super excited, part terrified. Because, really, they only have one shot at getting Castle's daddy drama right and I am hoping agaisnt hope it works out.
Use the arrows above to browse through photos for the February 18 episode of Castle on ABC.